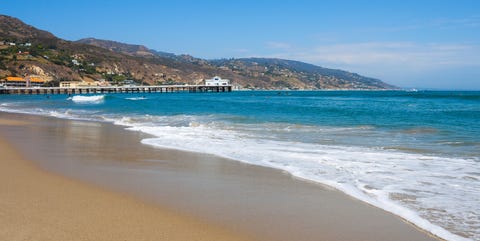 Aspiring actors head to California for the job opportunities. Foodies go for the tacos. And the rest of us? Well, we go for the beaches, obviously. Whether you're flying in to LAX, SFO, or SMF, we've gathered up the most spectacular white sand beaches in the Golden State.
To help you plan your getaway, we've pinpointed a mix of destinations for just about every type of beach-goer. From the best beaches for sunbathing and bird-watching to spots that are ideal for an active day of surfing or scuba diving, there's an option for you. All we ask is that you pack a big towel, a great camera, sunscreen, and prepare to enjoy some of the most gorgeous beaches in the United States. (Sorry Florida!)
1
Santa Monica Beach, Santa Monica
Situated across from the popular Santa Monica Pier, this gorgeous beach on the Pacific Ocean caters to both children and adults. It's three-and-a-half miles long and is an ideal spot for relaxing, biking, playing volleyball, and more. Plus, there are lifeguards on duty to monitor beachgoers.


2
Coronado Beach, Coronado
Looking for a beach with beautiful sand, loads of seashells, and stunning views? This is it. And as if that's not enough, people frequent Coronado Beach for swimming and surfing (there are separate zones), scuba diving, volleyball, and more. Lifeguards are on call year-round and it has a designated area for dogs, located at the north end of the beach.
3
Malibu Lagoon State Beach, Malibu
Whether you're up for surfing, bird-watching, or simply relaxing under the sun, Malibu Lagoon State Beach has something for everyone. Known for its stunning cliff views, it's the perfect option if you're in need of a fun-filled day.
4
South Carlsbad State Beach, Carlsbad
Located on the waterfront of Carlsbad, this three-mile long beach is popular among the surfer set and camping enthusiasts. If you're interested in camping, book as early as possible. It's also a go-to destination for activities ranging from fishing to bird-watching.

5
Santa Cruz Main Beach, Santa Cruz
Santa Cruz Main Beach is often referred to as the Boardwalk Beach and is a popular attraction for tourists. Just behind the beach is an amusement park, featuring roller coasters, miniature golf, a swimming pool, restaurants, and more.

6
Huntington State Beach, Huntington Beach
Visitors rave about the sheer size of this expanse, and that's probably because the entire park is a whopping 121 acres. Whether you're in it for the hiking trails, the camping sites, the waves, or the bonfires, the conveniently located coast is a great spot for families and individuals alike.

7
El Matador State Beach, Malibu
This isn't a lay out your beach towel and bask in the rays type of beach. This is the sort of place you navigate a craggy walk down a ton of stairs, then spend the afternoon exploring and photographing some of the most interesting rock formations on the entire California coast.
8
Pebble Beach, Monterey County
Get your "Big Little Lies" fix at this Monterey County beach. Travel along the scenic 17-Mile Drive and make sure to stop at Lone Cypress on your way. This tree is a "," and a popular attraction in addition to nearby wineries and golf courses.


9
Glass Beach, Fort Bragg
This beach isn't for laying out, but it is sure to be a memorable journey. Visit this former trash dump site in Northern California and discover some treasure. The beach is for your viewing and hunting pleasure. You might be lucky enough to find a rare ruby or hidden sapphire.
10
Baker Beach, San Francisco
Get a different view of the iconic Golden Gate Bridge while walking along the . Visitors can enjoy sunbathing or a picnic all at this one location. If you are up for adventure, there is an entrance into the Coastal Trail on the cliff-side of the beach.


11
Avalon, Catalina Island
Travel 22 miles off the coast by ferry to get to beautiful Avalon Bay. Enjoy numerous restaurants and shops, or just cool down at the beach. Can't get enough of the beautiful scenery? Ditch the hotel and stay at one of the island's .
12
Crystal Cove State Park, Newport Beach
The beaches at this state park are perfect whether you're looking for some action or relaxation. are perfect for paddle boarding, kayaking, and even body surfing. If you prefer sight-seeing, explore the one-mile trail and take in the ocean and the rustic coastal cottages.
13
Shell Beach, Sonoma County
Drive from San Francisco to find quiet, isolated along the Sonoma Coast—an environment guaranteed to help you decompress.
Bonus: It is Sonoma, where you can find a great glass of wine after your beach rendezvous! Just dress warm, the Sonoma Coast can get a bit chilly.
14
Black's Beach, La Jolla
Be prepared to work for this glorious beach. To get to , you first down from (which is a gorgeous state natural reserve filled with hiking trails). But it's worth it. At this beach, you'll find powerful waves, amazing views, and even a bathing suit-optional area.
15
Natural Bridges State Beach, Santa Cruz
Experience a true surf town in Santa Cruz, where the beaches are and fish tacos. beach boasts a famous natural bridge, and the area experiences an annual monarch butterfly migration. The waters are also a site for migrating whales.


16
Leadbetter Beach, Santa Barbara
A popular spot for beginning surfers, is . Grab a snack at the (which is quite literally on the sand) or stroll over to one of the other many popular beaches within walking distance.
17
Julia Pfeiffer Burns State Park, Big Sur
Though is more of a place to hike than to lounge on the beach (, like Limekiln State Beach, that are accessible), it's too beautiful to leave out. Hike to see an aerial view of the beaches, waterfalls crashing into the ocean and dolphins flipping in the water.


18
Ocean Beach, San Francisco
While you're gobbling up clam chowder in San Francisco and taking 'grams of the Golden Gate, don't forget to hit the beach, too. is expansive with 3.5 miles of white beach and few tourists. (Just stick to walking or flying kites—the waters can be frigid and dangerous unless you're an experienced swimmer/surfer).
19
La Jolla Cove, La Jolla
This very small beach is nestled between sandstone cliffs and is one of the most photographed in California. Head to for swimming, snorkeling or scuba divers, and enjoy seeing plenty of sunbathing nearby.
20
Moonstone Beach, Cambria
Along the Cambria coastline of California's central coast, you can stroll the one-mile boardwalk at or relax on one of the many wooden benches along the beach park. Catch a glimpse of whales, dolphins, sea otters, and plenty of birds while you're there.
21
Arroyo Burro Beach, Santa Barbara
Watch for whales along the sandy beach of , a local hotspot in Santa Barbara. With all the typical venues for swimming, surfing, and surf fishing, Arroyo Burro also offers areas for grassy picnics and barbecuing.
22
Muir Beach, Marin County
Combine nature with beach life and you have . to find starfish, octopuses, and anemone, then head to the nearby Muir Woods for gorgeous walks through redwood trees.
23
Manhattan Beach, Manhattan Beach
The main beach in is a sandy, two-mile flat that's famous for its beach volleyball. If you're not a volleyball player yourself, there's still plenty to do: Stroll along the Manhattan Pier, ride the 22-mile long bike trail behind the beach or check out the free at the end of the pier.


24
Carpinteria State Beach, Carpinteria
Twelve miles south of Santa Barbara, you'll find a mile of beach for swimming, tidepool exploring, camping, and surf fishing at . Spot seals and sea lions (and the occasional gray whale) from December through May, and find starfish, octopuses, crabs, snails, sea anemones, and sea urchins in the tidepools.
25
Carmel Beach, Carmel-By-The-Sea
This iconic beach on California's Central Coast has fluffy white sand and a gentle cove—and even allows dogs off-leash. A popular spot for weddings, also has plenty of volleyball nets overlooking the Monterey Bay National Marine Sanctuary and a scenic trail that leads walkers through Cypress trees and landscaped gardens.
26
Redondo Beach, Redondo Beach
Find uncrowded, soft sand at , which stretches from the Redondo Pier to the Palos Verdes Peninsula. Check out the Redondo Beach Jetty (one of the best spots in the area for surfing!) or head to Avenue C Beach (a 20-minute walk from the pier) for beach volleyball.
A hotspot for celebrities, is a public beach with a popular restaurant, wide expanses of sand, clean facilities, and a private pier. As a local sign says: "Sea the view, bring the kids, have a seat, enjoy Malibu." You don't have to tell us twice.