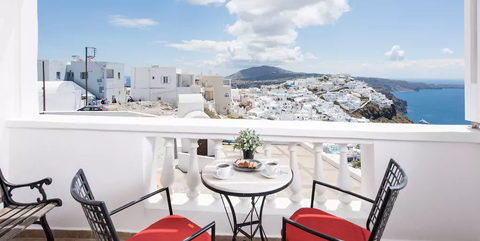 The internet has its faults, but there's no denying the fact that it's made traveling way easier. Gone are the days of asking for directions on road trips — unless of course you're asking Siri. Now, you can plan out an entire girls' getaway with a few swipes on your phone, including Instagram collections organized by restaurants to try, sights to see, and outfits to wear.
And while that doesn't solve for the biggest dilemma of all — where to go — and have joined together to help you decide.
The duo compiled a list of the top trending travel destinations so far this year, based on the most-pinned locations thus far in 2017, and we included some truly luxurious Airbnbs worth checking out while you're in town.
From Kyoto to the Scottish Highlands, each of these 10 destination is not only culturally rich, but very Instagram-worthy.
The city of endless inspiration for Gaudí, Salvador Dalí, and Pablo Picasso, Barcelona is a design capital in its own right. Celebrate the city's history by staying in an once owned by Catalan royalty.
The contrast between the white stucco cliffside buildings and the indigo Aegean Sea makes for endless Instagram opportunities. Take part in the island lifestyle by lazing on the beach, never straying too far from a glass of vino, and staying .
8
New York, United States
Sure, the city doesn't sleep, but you might need somewhere for a quick cat nap. This should do the trick.

Typically a favorite for celebs and honeymooners, Bora Bora welcomes all sunbathers, nightlife savants, and thrill-seekers. Do it up right with this .
Equal parts university town and preserved Ancient city, Kyoto is home to of over 1,000 Buddhist temples, spectacular Japanese architecture, and some of the world's most exciting places for cuisine — from intricate multi-course meals (known as kaiseki) to rotating sushi bars. It's only fitting to stay in a Japanese machiya, or a .
There's no surprise Iceland is high on everyone's Pinterest list! The tiny European country known for its natural splendor and particularly Instagrammable Blue Lagoon has had a spike in tourism in recent years. With that has come a sur of Airbnb's that range from historic to contemporary. This features a bit of both, with a traditional Icelandic exterior and stunning modern interiors.
Scotland's Highlands are one of those otherworldly places that make you wonder why anyone would choose city life. Explore the lush woodlands and awe-inspiring mountains, which are sprinkled with the remains of forts and castles. Stay in a to get a true taste of what the country has to offer.
If you're an avid skier (or even if après-ski is more your speed), where better to go than the Alps? Courchevel boasts some of the area's best slopes and plenty of to cozy up in.
2
Tenerife, Canary Islands
Tenerife is the largest of Spain's Canary Islands, just off the coast of West Africa. Known for its momentous Carnaval, the island is also home to a number of temples, museums, and old colonial towns. Take in the spectacular views with this .
Azure waters and excellent diving make Sharm El Sheikh a gorgeous Egyptian beach town. A is the way to go, complete with an infinity pool and modern interiors.