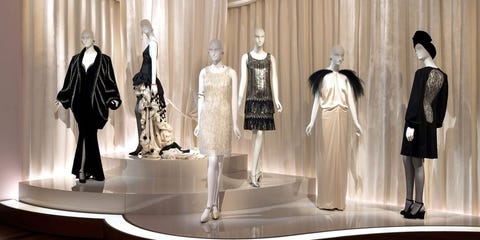 It seems that the age-old debate is over: fashion is considered artwork, and it belongs in museums. At least, that's what we're choosing to believe, what with the major success of fashion exhibitions at some of the world's most prestigious art institutions. After all, what is more telling of a generation's cultural progress than the clothing of the time?
Luckily for museum-goers and fashion-lovers worldwide, there are plenty of museum and gallery exhibits to catch that explore the politics and history of fashion. From Anna Sui's outrageous rock-n-roll couture to an examination of Louis Vuitton as an icon of luxurious living, make sure to check out these 11 fashion-forward shows.
1
"Volez, Voguez, Voyagez — Louis Vuitton" at the Former American Stock Exchange Building In New York City
This Fall, the former American Stock Exchange building in Manhattan will be transformed into a series of themed rooms celebrating the French fashion house, which debuted in the U.S. in 1893. The exhibit follows Louis Vuitton's path to becoming an icon of luxury, and it all begins with the brand's most symbolic piece: the trunk. Take a closer look at LV's legacy, from a favorite of the French upper class to notable American families like the Vanderbilts, Rockefellers, and the Hearsts. from October 27 through January 7, 2018.
2
"Dali & Schiaparelli" at The Dali Museum in St. Petersburg, Florida
Starting October 18, "Dali & Schiaparelli" will allow you to take a closer look at the intersection between art and fashion as explored by Elsa Schiaparelli and Salvador Dali. The two collaborated on a number of Surrealist projects together that defined both the worlds of art and couture. From extravagant gowns to paintings to jewelry, see their shared genius up close until January 14, 2018 at .
3
"The Glamour and Romance of Oscar de la Renta" at the Museum of Fine Arts, Houston
Celebrate the life and work of , Houston until January 28, 2018. The exhibit features 70 of his most memorable looks, including Amal Clooney's wedding dress pictured here, which is said to be the last dress de la Renta designed before he died in 2014. In addition to his highly-detailed, romantic clothing designs dating from the '60s to the year he passed, you can also see his original sketches, photographs, and editorials featuring the designer.
4
"Exhibition Being Modern: MoMA In Paris" At Fondation Louis Vuitton
The Museum of Modern Art and present a collection in Paris of 200 iconic pieces of artwork and lesser-known, but still highly significant works. Celebrating everything from minimalism to Pop Art, you can catch this all-encompassing show until March 5, 2018.
5
Musée Yves Saint Laurent Paris
This isn't exactly an exhibit...it's even better: an entire is opening in Paris. As a tribute to the iconic brand's co-founder, Pierre Bergé, who passed away on September 8, the museum will be dedicated to his life's work and desire to find a permanent home for the YSL archives. The show officially opens on October 3 and the inaugural exhibit will be on display until September 9, 2018. Not able to make it to Paris? There will also be a opening in Marrakech on October 19.
6
Guo Pei Exhibition At SCAD FASH Museum of Fashion + Film, Atlanta
It wasn't until Rihanna marched up the stairs of New York's Metropolitan Museum of Art at the Costume Institute's 2015 gala in a luminous marigold cape by Guo Pei that the designer won international fame. This fall, the in Atlanta will showcase more than 30 of Guo's opulent gowns and gravity-defying shoes. The show will run from September 7 to March 4, 2018.
7
Items: Is Fashion Modern? At The Museum Of Modern Art, New York
Fashion manifests itself in different ways. Be it textiles, video, or entire cultural shifts, the craft transcends garment design and consumerism. At the MoMA's first exhibition dedicated to fashion since 1944, , 111 significant garments and accessories will be on display, and viewers will be able to examine them through the context of 100 years worth of design history.
Playing off of the 1944 exhibit Are Clothes Modern?, the retrospective will cover everything from the mid-century clothing that resulted from World War II to the way contemporary clothing is designed, worn, and manufactured. Catch the show from October 1 until January 28, 2018.
8
Christian Dior, Couturier Du Rêve At The Musée Des Arts Décoratifs, Paris
In celebration of Dior's 70th anniversary, the prolific French couture house will be debuting to ever show in Paris. The gorgeous collection will explore the many creative transformations Dior has experienced under its larger-than-life creative directors like Christian Dior, Yves Saint Laurent, John Galliano, and most recently, Maria Grazia Chiuri.
Spanning from 1947 to 2017, you'll be able to see over 300 couture gowns as well as a stunningly curated series of fashion photographs, artwork, illustrations, and more. The show opened in July and will run until January 2018 — so if you happen to make a trip to Paris, what could be more French than an afternoon with Dior?
9
Balenciaga: Shaping Fashion At The V&A Museum, London
One of the most highly-anticipated fashion exhibits of 2017, is a must-visit if you find yourself in London.
The fashion house opened in Spain nearly 100 years ago, producing some of the world's most avant-garde designs — even by today's standards.

Running from May 27 to February 2018, see the designs of couturier Cristóbal Balenciaga where they certainly fit in: amongst some of the world's most exceptional artwork at the Victoria and Albert Museum.
10
The World of Anna Sui At The Fashion and Textile Museum, London
Since her debut fashion show in 1991, has carved out a space for herself as a rock-n-roll, boundary-bending designer. The World of Anna Sui will feature over 100 of her signature looks, from mod to bohemian.
Another history-defining moment? This exhibit is the first ever retrospective of an American designer on display in the UK. Check out this fabulous show before October 1, 2017.
11
Diana: Her Fashion Story at Kensington Palace, London
Take a closer look at the late Princess Diana's iconic style with . Showing at Kensington Palace, the collection outlines some of her most memorable outfits, from her first public appearances to fashion's favorite velvet gown, which she wore during her visit to the White House. The exhibit will be open for the remainder of 2017.