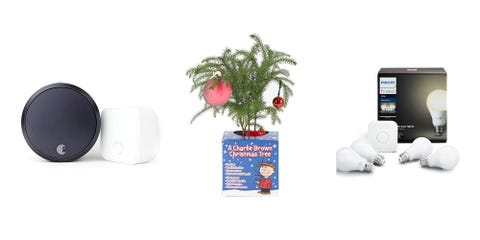 As part of its "12 Days of Deals," Amazon is celebrating all the "folks nestled in their smart homes" this winter with deals on gadgets and wall art that make a pretty convincing argument for never going outside again. Scroll down to shop the best picks.
1
Purple Agate Geode Photo On Wood
Collecting crystals is the big thing right now, so you might as well get the artwork to match.
Other select framed artwork and wood murals by Rivet will be 20% off during today's sale.
2
Modern Black And White Desert Cactus Photo On Wood
This wood print is a very Georgia O'Keefe-style statement suited for any room of the home.
Other select framed artwork and wood murals by Stone & Beam will be 20% off during today's sale.

3
Costa Farms Live Charlie Brown Christmas Tree
Turn on "A Charlie Brown Christmas" and take in the season beside your own Charlie Brown tree (which is actually a Norfolk Island Pine — a tropical plant that you can keep to help purify your air all year round).
Save up to 35% off on Costa Farms holiday plants during today's sale.

4
August Smart Lock Pro + Connect
This smart lock lets you use your cell phone (or voice commands to Alexa) to unlock your door from anywhere (even the couch) to give keyless entry to your loved ones — and maybe the pizza delivery dude, too.
For when you do leave the house, the smart gadget also automatically locks door behind you and lets you monitor your home on your phone.
Save $30 off this bundle with today's deal.
5
Philips Hue White Smart Bulb Starter Kit
These customizable lights can adjust to over 50,000 shades, including preset shades of white light to energize you throughout the day.
You can control and schedule the bulbs through an app or Amazon Alexa and Google Home, and program your lights to gradually turn on in the morning and dim at night to signal bedtime.
Save 30% off All Philips Hue Starter Kits during today's sale.
6
TP-Link Smart Plug Mini
A smart plug lets you control your home electronics with your cell phone, or voice commands through Amazon Alexa and Google Assistant. You can turn devices on or off, create schedules, and set timers. Plus, the smart plug helps you save money by tracking and analyzing your energy use over time.
Save more than 20% off on TP-Link HS105 smart plug during today's sale.
7
Pure Guardian Ultrasonic Cool Mist Humidifier
This cool mist humidifier is a winter lifer saver for those with colds, allergies or dry skin.
Save $9.25 off the humidifier during today's sale.
The new second-generation Echo has a new speaker and design — just in time to play holiday music at all your winter parties.
Save 20% off the Echo during today's sale.