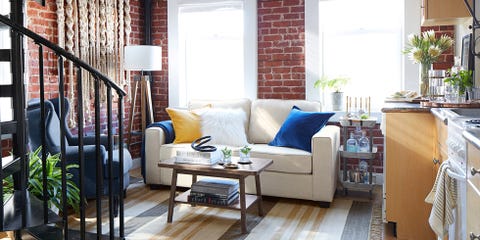 Pottery Barn just launched a new "PB Apartment" line that's specifically designed for compact living. While this isn't the brand's first foray into smaller furniture (they launched a collection last year), this line comes with it's own branding, website, and look. If you're living in an apartment, or just a small house, you'll love what this new line has to offer.
1
Mission Modular System Collection
Whether your apartment is in need of a storage-savvy workstation or a small kitchen set-up (as seen here), this collection has everything you need, including a pop-up table, rolling cart, and wall cabinets.

$7 and more
2
Soma Freemont Square Arm Upholstered Sofa
A sofa that fits your space and is comfortable is key to making a living room feel like home. And since this sofa is custom made with the colors and materials of your choosing, it'll fit your style too.

Prices vary
The Thalia Dining Collection looks like a charming flea market find, but is designed with small spaces in mind and features glass doors to make finding your hosting essentials easy, even in cramped quarters.

$799
4
Rainier Galvanized Storage Cart
This stylish cart will come in handy if you're lacking liquor storage or in need of a bathroom organizer.

$99
The Mateo line features a weathered, distressed finish that'll bring warmth and character into your apartment. In fact, you'll want to keep this desk even if you eventually move into a larger home, trust us.

$199 and more