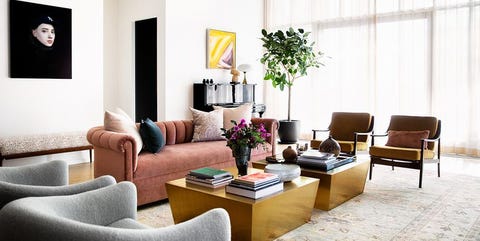 Choosing a plant for your home can be a challenge, but its benefits are endless. Whether they're displayed on a bookshelf, a window sill, or at the center of a coffee table, plants never fail to breathe life into a space. Plus, they're known to improve air quality, and if you live in a big city, that alone is a solid reason to consider adding them to your home decor shopping list.

To get you started on your journey of finding the perfect one for your space (and lifestyle), we've gathered some of the best online retailers for everything from succulents to air plants. We've highlighted large retailers (think Amazon and Home Depot) as well as smaller operations, which offer more curated plants to add a unique touch to your interior.

If you can't stand the thought of navigating a brick-and-mortar to find greenery that you'll actually love, save yourself the trip and browse these options. You won't be disappointed.
You might only think of The Home Depot if you're tackling a renovation, but the retailer also offers a wide selection of both indoor and outdoor plants at reasonable price points. From fiddle-leaf fig floor plants to rubber plant varieties, the options are endless. The retailer also carries a wide assortment of care supplies, including fertilizers, to make your plant shopping experience as stress-free as possible.
$40, Zanzibar Gem, The Home Depot


Live for a curated shopping experience? If you can't stand the thought of scrolling through an excessive number of pages online to find that one perfect plant, UrbanStems is for you. It offers a small selection of unique plants that are perfect for your home or gifting.
$70, Snake Plant, UrbanStems


Founded in 2016 by Lana Elie, who has produced campaigns for leading fashion brands, including Burberry, Marc Jacobs and Gucci, Floom is a go-to for plants with a story. Elie prides herself on only working with plant sellers who possess a unique perspective and personality. Floom is perfect for plant lovers who appreciate nothing more than a well-curated selection that doesn't feel overwhelming. Plus, the simple care tips that are included along with each plant description add a nice touch to the online shopping experience.

$175, Terrarium, Shu's Flower


While they are known for their monthly flower subscription box, The Bouqs Company also carries a small selection of plants, including low-maintenance greens (think the snake plant). Prices range between $60 to $68, and shipping is pretty reasonable, too, at $12 nationwide. Plus, delivery is free for weekday orders of more than $100.

$65, Ivy Plant, The Bouqs Company


Etsy is a Garden of Eden when it comes to buying plants online. You can find a seller offering pretty much any (legal) plant you could think of, such as this air-purifying plant Peace Lily. It's one of many plants that help you breathe and sleep well.
$12, Peace Lily Air Plant, PrettyInGreenPlants
If you can't trust yourself to keep even a succulent alive, The Sill is a good place to dip into the greenery hobby. Under 'The Sill Plant Promise,' you can return certain plants for up to a year after you've purchased them.
So if your Philodendron here starts looking a little, well, dead, there's hope for your green thumb. You can choose to receive your plant in one of The Sill's Instagram-friendly pots or just buy the plant itself to stay on the cheaper side. The Sill also offers free returns in 30 days and gifts you a free Pilea peperomioides with orders of $50.
$9, Staghorn Fern, The Sill
You can get anything on Amazon, including this assortment of 20 succulents. Since Amazon launched its garden shop, it has streamlined the process of finding and buying live plants on its site. A ton of the plants are available on Amazon Prime, in case you need plants and you need 'em fast.
$40 for 20, Pack of Succulents and Cacti, Shop Succulents
Farmgirl Flowers sells burlap-wrapped bouquets and house plants, including cacti, grown by American farmers receiving living wages, medical benefits, and working in safe conditions. Many of their selections come with pretty decorative vessels, so all that's left to do is display your purchase in style.
$130, Cacti, Farmgirl Flowers

Bloomscape sends you fully-grown and pre-potted plants, so all you have to do is take it out of the box and love it dearly. This service is especially great when buying large plants, like this Bird of Paradise, which clocks in at 48" tall and would be a real pain to carry home.
Bloomscape also has a helpful interface that gives you care tips and tells you how difficult the plant is to grow, how much light it needs, and if it's pet-friendly. It also has a 30-day guarantee on all plants and free shipping for orders over $50.
$195, Bird of Paradise, Bloomscape
Is there anything more charming than coming home to white azaleas at your door? Terrain sells all the tools and supplies you need to tend and grow your own garden, but they also have a nice collection of live plants available (if you'd like a running start).
$78, White Azaleas, Terrain
At the same place where you can buy your Vans slip-ons and rose gold desk decor, you can get curated bundles of small plants, such as this assortment of tropical air plants.
$35, Assorted Air Plants, Urban Outfitters
You can buy a pineapple plant online and have it shipped to your door! We are living in a golden age of golden fruit—just don't eat this one. It's ornamental. This pineapple plant comes from Botanique Workshop in London. The plants are sold through Trouva, which is a website full of independent boutiques selling plants and some seriously trendy decor.
$30, Pineapple Plant, Botanique