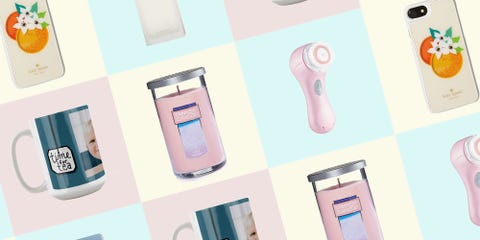 We know Mother's Day seems like months away, but the second Sunday in May will be here before you know it. Don't worry about wracking your brain and scrounging up the funds from your siblings this year. Amazon is already promoting some amazing deals on gifts that Mom will love. We rounded up the best of the best and will keep updating this post with new sales as May 13 gets closer. Happy shopping!
$129 $99
It looks intimidating, but this removes makeup, softens skin, and clears pores in just two minutes.
2
Kate Spade Shaky Gems Phone Case
$55 $28
Her day will feel bright even if the weather is still dreary. The gems that float inside the oranges add an extra layer of fun.
3
Moko Universal Crossbody
$26 $15
Replace her bulky purse with this . The interior is built to maximize space so it can still her cards, phone, keys, and more.
4
Dolce & Gabbana Light Blue
$130 $82
The fresh bamboo and white rose scent of will become Mom's new go-to. Stock up now while it's nearly half its original price.
$28 $22
It's a classic gift for a reason. This year you can get Mom her favorite for a fraction of the price.
$248 $90
A that's cute for work and on sale for nearly a third of the original price — what more do we need to say?
7
Samsung Gear Fit Fitness Watch
$150 $75
If Mom can't stop talking about her new 10,000 steps a day goal, get her . It comes with a personalized motivator that coaches her in real-time.

8
Kenneth Cole Reaction Commuter Laptop Bag
$240 $50
This can hold her laptop, her lunch, and a pair of sneakers. One says it best: "This may be the holy grail of backpacks."
9
Semi-Rimless Sunglasses
$17 $12
These are stylish without feeling over the top.
10
Coordinates Nameplate Necklace
$120 $84
Use the coordinates for your favorite summer beach spot or the hospital where you were born for a special meaning only Mom will understand.
11
Nubwo Portable Speakers
$49 $17
This may not look like much but it'll play mom's music with impressive acoustic sound while she gardens, cooks, and more.
$40 $30
She can re-live Claire's turmoil as she travels through the stones, back to her life in 1948.
$50 $45
These from Amazon have nearly praising their steller sound quality. It's so crystal clear, Mom will think you shelled out hundreds.
14
Essential Oil Diffuser Aromatherapy Diffuser
$30 $16
Mom knows that her job comes with a lot of interesting smells. This can be moved from room to room to instantly freshen up the place.
15% off using the code LOVEMOM through 4/27
Mom will always tear up at a personalized gift when it includes a family photo.
16
Eye Mask with Built-in HD Audio
$37 $25
You could get her a regular sleep mask, or your could get her this that also doubles as a white noise machine.