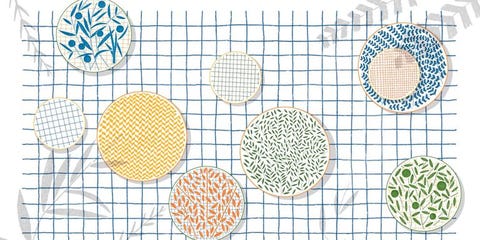 Just in time for the holiday party season, Hermès released its latest series at a colorful cafeteria pop-up in its flagship store on New York's Madison Avenue. The event, called Hermès Self-Service, was an ode to unexpected entertaining with burnt orange bar carts set with patterns and a lush assortment of French treats.
Self-Service marked the debut of "A Walk in the Garden," a new collection created in collaboration with illustrator . True to its name, the patterns are playful and botanical, a delicate rendition of vintage Marimekko. Click through to get inspired by Hermès's casual—yet always luxurious—approach to a memorable feast. The collection will be available and in stores ($90 to $935).
The was made in collaboration with Nigel Peake.
"A Walk in the Garden" features botanical prints and crisp graphics in a playful, vintage colorway.
For the debut of the new collection, Hermès transformed its Madison Avenue flagship into a sophisticated cafeteria.
Burnt orange trolleys held trays with different settings from previous Art de la Table collaborations.
Guests took their trays and loaded them up with French treats, a casual approach to glamorous entertaining.