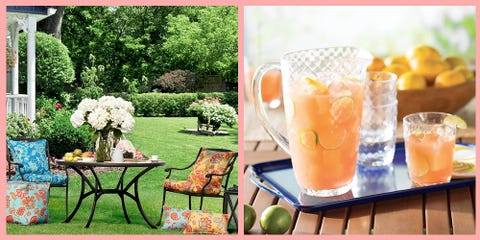 After a cold, brutal winter, it's finally time to welcome the warm weather. If you're outdoor decor is looking a little dingy, is here to help. The home store is having a massive summer sale right now with up to 70% off , , and more. Add these to your cart ASAP and your backyard will be in tip-top shape by the start of the season.
1
Taube 9' Market Umbrella
Consider this as good as it gets when it comes to outdoor umbrellas. It's water-resistant, blocks UV rays, and can be tilted to an angle to block the sun when it starts to set.

2
Granada Plastic Pitcher
Your alfresco dining just got an upgrade thanks to this durable plastic pitcher that mimics the look of high-end crystal.

3
Fusion Composite Storage Shed
We know the yard doesn't maintain itself, but having the lawn mower out in the grass looks tacky. Tuck everything neatly away in this extra-roomy shed that's rot, decay, and rodent resistant.
4
Ariana Self-Watering Plastic Pot Planter
Replace your cracked pots with these colorful planters that add a pop of color to the backyard. They come with built-in watering trays so your plants stay looking their best, even when you're out of town.
5
Preston Wooden Swing Set
Install this playset in the backyard and the kids won't even remember what screen time is.
6
Perrysburg Floral 3M Scotchgard Outdoor Dining Chair Cushion
The easiest way to refresh without having to replace all your backyard furniture: outdoor cushions! This set brightens up your space and will hold up even in afternoon thunderstorms.
7
Dowd Low Profile 5 Piece Rattan Sectional Set with Cushions
Or, just replace the furniture with this sectional set that fits the entire family and more.
8
Brandon 5 Piece Dining Set with Cushion
Whether you're having small family get-togethers or hosting a BBQ for the whole block, this dining set will be super appreciated.
9
Sierra Plug and Play Spa with Waterfall and Ozone System
Who needs a fancy vacation when you can permanently install this oasis in your backyard?
10
Spirit II E-310 3-Burner Propane Gas Grill
Great for Memorial Day Weekend, but an even better early Father's Day gift for Dad.
11
Deluxe Cedar Swing Pergola
This beautiful all-natural cedar swing will automatically become a focal point to your backyard.
This fit pit will be fun now, but think of how amazing it will be when you're roasting marshmallows on a chilly September night.