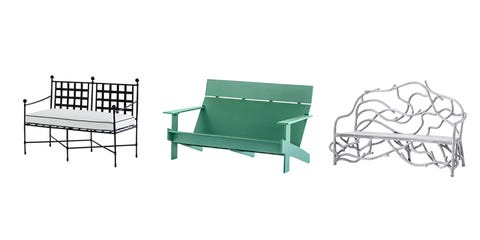 A garden is more than trees, shrubs and flowers — it is a mecca for visitors to take in the beauty around them. A well-designed bench helps create the feeling of an outdoor room, and once you decide on the perfect spot to place yours, all that's left to do is sit back and enjoy the view. Read on for stylish bench picks.
1
Brentwood Acacia Bench By Safavieh

This traditional and neoclassical design would shine in an architectural garden. Just add a seat cushion or two for comfort.
$380,
2
Hidcote Faux-Bois Concrete Bench By Currey & Company
Beautifully sculpted with a cracked, imperfect finish of concrete, this piece is pure whimsy.
$2,995,
3
Cast Aluminum Bench By Reevesdesign

The elegant wood and metal details of this unique bench look good from all angles.
$995,
4
Indochine Settee
 By Red Egg

The dark red gives this piece a fabulous edge. Just watch not to expose the rattan to the elements.
$2,520, to the trade,
5
Isabella Metal Outdoor Bench By Hampton Bay

Sturdy, weatherproof and playful, this bench would make an impressive addition to any small patio.
$199,
6
Jefferson Bench By Munder Skiles

The design of this piece is a near-replica of the bench Thomas Jefferson designed for Monticello.
$5,500,
7
Buie Two-Seater Bench By Mckinnon And Harris

This sophisticated aluminum seat boasts the same details you may find on wood Kent-style chairs.

$9,270, to the trade,
8
Ixtapa Love Seat By CB2

Fun, young and cool, this Acapulco-style bench would be perfect out by the pool.
$349,
9
Lollygagger Sofa By Loll Designs

Made of recycled plastic, this low-key seat is the perfect interpretation of the Adirondack chair.
$1,069,
10
Avery Neoclassical Outdoor Bench By Horchow

With lovely metalwork, this bench harkens back to the 1920s and has a touch of Mediterranean style.
$1,100,