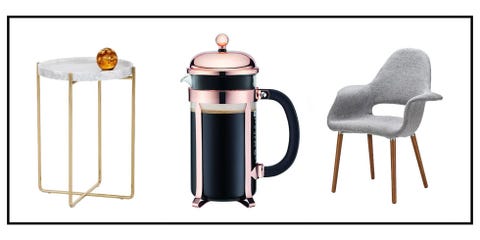 Bless Amazon Prime Day, a made-up pseudo holiday that's all about shopping. The amazonian glory of the site means that there's something to discover in every category, from beauty to fashion to home. Here, professional picks from ELLEDecor.com's Jessica Cumberbatch Anderson.
"Though bar carts are perennially fashionable, I love the idea of setting up a coffee cart with a chic French press, mugs and espresso cups, and pretty canisters for sugar and cream."
Bodum Chambord French Press, $37 + 20% off;

"Mid-century décor can get thematic to a fault, but the neutral gray fabric on these feels more modern, while the silhouette adds just the right amount of whimsy to an otherwise sleek space."
Poly and Bark Organic Arm Chair, $142 + 30% off;
"It's the luxurious little details that make a hotel stay so appealing, like that crisp white bathmat waiting for you by the tub. I'd swap out the extra bath towels that don't get used every day, and put a few of these within arm's reach of the shower instead."

AmazonBasics Bath Mat, $12 + 25% off;
"Marble has been having a moment, for good reason: It's particularly versatile. I can see this little table bed-side or sofa-side, or as a catchall for bathroom accessories like candles, matches, and hand towels."
Sunpan Liv White Marble Side Table, $678 + 30% off;
"This glass has a form that's pretty enough for a bar cart display, but the all-purpose size makes it functional every day."

Luigi Bormioli Glasses, $28 for 6 + 20% off;