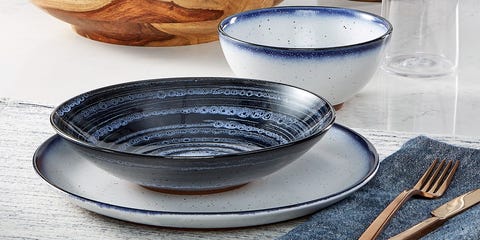 The company that showed you there's no such thing as too much chambray — or fringe, for that matter — in the mid-2000s is delving into all-new territory in 2018, launching a tabletop line for Macy's. Everything fits Lucky Brand's desert-boho aesthetic, featuring copper flatware (it's the new rose gold, tbh), wood accents, and plenty of dip-dye. It's perfect for getting that effortlessly cool vibe at home — as long as you don't go into denim overload.
Everything's sold on , and right now, the chain's offering free shipping for items over $49, and an extra 20 percent off your order if you use the code "MOM." Which is a subtle reminder that Mother's Day is coming up. This Sunday. So get to it!
1
Highball Glasses, Set Of 4
$25

These glasses have an artisanal vibe, minus the 'artisanal' price tag. Each one holds 20 ounces of whatever you're sipping, so you won't be constantly getting up for refills, either.
$22

Admit it: We're all suckers for a little ombré. These speckled bowls feature an indigo dip-dye rim — a Lucky Brand signature — and give a little life to an otherwise mundane breakfast. If you're really into the look, Macy's also sells a .
3
Rumble Copper 20-Piece Flatware Set
$167
Brass had its moment. For a warmer take on the trend, go for this copper set. This 20-piece set isn't bogged down with random utensils you'll rarely use; it's a complete set of forks, spoons and butterknives for four people.
4
2-Piece Denim Napkins Set
$29

The frayed edges on these rustic denim napkins will give your table a cool-but-not-forced look. Just don't pair this with a denim runner and placemats, unless you want to go full Texas Tuxedo, a la . #neverforget
5
Wood Chip And Dip Server
$100

Nobody needs to know your famous salsa's from Trader Joe's. And in this chic wooden bowl, they'll be too busy to ask where you got the tray to beg you for your recipe.