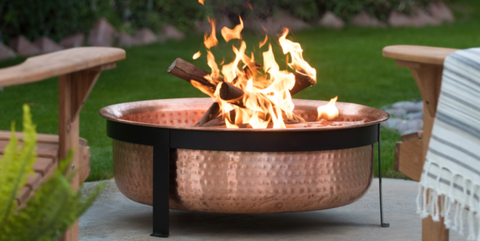 Is there anything better on a cool summer night than gathering around a bonfire with friends? Drinking wine, toasting marshmallows, cozying up in front of a warm, crackling fire — seriously, you can't beat it.
From portable, enclosed outdoor fireplaces (that are still s'mores worthy!) to beautiful, open copper and steel pits, there are actually a lot of stylish options out there — not to mention, many of them are surprisingly affordable. These ultra-cool fire pits will help you get things lit.
1
Basin Cast Iron Fire Pit
This open basin cast iron fire pit is so simple and yet, so stunning — the perfect addition to any backyard.
2
Rustic Stars and Moons Square Fire Pit Ring
If whimsy's your thing, try this square fire pit ring, featuring cutouts in the shape of little moons and stars.
If you're looking for a fire pit that's detailed but still sleek and simple, look no further.
4
Eden Copper Wood Burning Fire Pit
Jet
$649.99
$285.10 (56% off)
This hammered copper fire pit is so dreamy, what more could you ask for?
5
Hex Shaped Lattice Fire Pit
This lidded hexagonal lattice fire pit is a total stunner, if you want something that feels more glamorous.
6
Memel Solid Steel Fire Pit
Jet
$364.99
$246.99 (32% off)
For a fire pit that feels super modern, this steel option is a great pick — look at those legs!
7
Brown Stone Wood-Burning Fire Pit
If stonework is your thing, this round, brown stone fire pit would be a perfect addition to your backyard.
8
Tanami Stainless Steel Wood Fire Pit
The interlocking stainless steel panels on this fire pit make it a totally unique find.
9
Gas Crossweave Fire Pit Bowl
More lattice work adorns this beautiful gas fire pit, which also saves you the hassle of hunting down fire wood — and heating things up the old-fashioned way.
10
Portable Patio Fireplace
This little enclosed fireplace is perfect for a small yard, or for taking it on the go to a friend's place. The party goes wherever you are!
11
Cabris Patchwork Iron Bowl Wood Burning Fire Pit
Jet
$209.99
$149.99 (29% off)
For a fire pit that feels a little bit edgier, this patchwork iron bowl is a totally stunning option. And has an Olympics-meets-Game-Of-Thrones vibe.