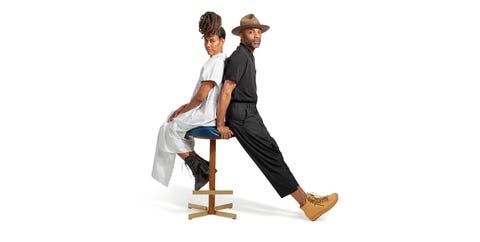 A decorator walks into a bar, the bartender turns and asks, "What'll it be?" "A prettier stool," the decorator says before being forcibly ejected. I can't say seats are top of mind when I'm choosing a place to drink. I'll sit on an egg crate as long as I'm served a well-mixed Gibson (or three) and I hear at least one upbeat Cure song per hour. For Anishka Clarke (above, left) and Niya Bascom, of Brooklyn's , standards are much higher. "Barstools are a deal-breaker," Clarke says. "I will leave if they don't look good." Bascom agrees, insisting that stools should be made with equal attention to form and function.
Ishka specializes in interiors for hospitality projects, so finding the perfect stool isn't new to them. Even a sketchy dive, they say—with regulars who howl obscenities all night before passing out into a bowl of peanuts—could be elevated with the right seating.
1
Jacqueline by Christina Z Antonio
Niya Bascom: The weight is great, as is the finish. I turned it upside down, and it had contrast stitching throughout the bottom.
Anishka Clarke: You know when you have a high-quality garment, one that will never fall apart? That's what this is. It's couture. Sleek, minimal, and very modern.

18" w. x 17" d. x 25" h., $5,200
2
Grasse II by Alfonso Marina
AC: The back would read well against a marble bar top.
NB: I like the caning, solid wood, and brass fittings at the base. You can buff this and it will still look beautiful.

23" w. x 21" d. x 41" h., $3,095
3
Trevett by David Kleinberg for Henredon
NB: I like the stylized back. It's very handsome and full-figured.
AC: This is a good modern spin for Henredon—very feminine. It would sit well in a residential or hospitality project.

19" w. x 20.5" d. x 41" h., $1,700
NB: This is my favorite of the bunch. The beautiful wicker reminds me of the Caribbean. It can be used in any room.
AC: It would look super-sexy in black. It has an old-school, grandma vibe—if you put her in some black tights.


15.5" w. x 14" d. x 36" h., $1,195
5
Park Place by Yabu Pushelberg
AC: The form is excellent. I would sit on it for a long time, because I will endure for this beauty.
NB: It's simple and sleek, and it has a minimal color palette, which appeals to me.


19" w. x 17" d. x 36" h., $3,515
NB: The wood-and-brass combination is great. I love that you can take the seat off to get it reupholstered.
AC: The cushion comes off easily, so I would use it only for residential. The base is the focal point, and the cushion isn't distracting.


16" dia. x 30" h., $2,950
7
Tripod by Erickson Aesthetics
NB: The three legs and brass finish are fantastic. (Fantastic is my favorite word.) It's designed on a slant so it dips back, making it very comfortable.
AC: It's extremely sculptural. I would keep the colors uniform. It has a gorgeous alien vibe.

17" dia. x 36.5" h., $2,600
8
Durrant by Mr. Brown London
AC: This has a lovely balance between masculine and feminine. The brass detail feels midcentury.


23" dia. x 42" h., $3,285
9
Cristallino by Fendi Casa
NB: It's a bling stool. It reminds me of a party on the beach in Miami.

AC: It's sexy. The sculpted back has an Art Deco look.


24" w. x 20" x. x 25" h., $7,450
10
How to Marry a Millionaire by Peter Dunham
NB: I love the name and that it doesn't cost a million dollars. It is nostalgic, with a simple palette. Clean, minimal, and sturdy.
AC: My favorite part is the paper rush.

18.5" w. x 22" d. x 48" h., $2,100
NB: The white-and-walnut combination looks great.
AC: The upholstery is some of the best you can get.


24" w. x 26" d. x 47.5" h., $3,850