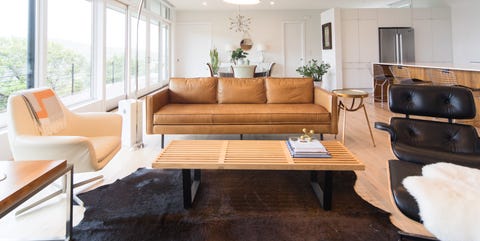 As we finally to settle into summer, a common thought fills all of our minds: where to vacation. Between looking for the best destination, to negotiating with friends and family on where to stay, finding that perfect getaway can be stressful. Now, with Airbnb's unveiling of their most wish-listed Plus listings, the stress ends here. These breathtaking homes, selected by real Airbnb users, are some of the most desired on the market and could become your next travel destination.
1
Loft Style Studio- Barcelona, Spain
Located in the heart of Barcelona's oldest district, this 130-year-old loft has old Spanish charm with modern interiors. The open, loft-style apartment unites rustic elements of old Spain with contemporary appliances and decor. A perfect place for groups of two or three who want to stay in a bright, young space at the center of it all.
2
Bright Garden Flat- London, England
Enjoy the quirky interiors, romantic garden, and central location of this charming London flat all at once. Only minutes from South Kensington and Chelsea, this space will tempt you to leave as much as it begs you to stay. Whether you're taking a leisurely walk to the Stamford Bridge or enjoy time with company in the private garden, you'll feel comfortable and relaxed in this incredible pad.
3
Luxurious Waterfront Villa- Cape Town, South Africa
This secluded Cape Town Villa is complete with panoramic views, white sand beaches, and ample amenities. This luxurious home sleeps 8 and has all the space you need to spread out, relax, and enjoy the quaintness of South Africa.
4
Urban Loft- Chicago, Illinois
Kick back on the rooftop patio or enjoy a relaxing meal on the breakfast bar at this classic, centrally located Irving Park loft.
5
LA Lifestyle Loft- Los Angeles, California
This boho-chic loft is everything you could ask for: cool, open, and at the heart of downtown Los Angeles. Head up to the rooftop pool & spa, complete with a 360-degree view of the city or shop around at the endless restaurants, bars, shops, and local markets.
6
Modern Hillside Home- Austin, Texas
Surround yourself with nature in this mid-century, spacious home with views of the Wild Basin Wilderness Preserve of Westlake Hills. Only 10 minutes from downtown Austin, you have the quaintness of a country getaway with the fun of the city nearby.
7
Treehouse Studio- Prahran, Australia
This freestanding treehouse is perfect for the adventure-seeker looking for pure solitude in their travels. The high vaulted ceilings and natural light of this loft makes for a cozy, open space that is both quaint and exciting.
8
Greenhouse Loft- Milan, Italy
Relax and unwind in this plant-inspired, ultra modern loft in the fashion capital of Italy. Tucked away on a quiet street in the heart of Milan, you can enjoy the secluded vibe while easily enjoying all that the city has to offer.
9
Elegant Roman Studio- Rome, Italy
This bright and charming studio is located in a beautiful neighborhood of Rome, with views of St. Peter's Church and a stunning patio to enjoy them from. All of Rome's incredible sites are easily accessible with the metro in walking distance.
10
Mission Loft- San Francisco, California
This full-floor boutique sweet is quirky and charming, located in the vibrant Mission District of San Francisco. Cuddle up by the indoor fireplace or head out and enjoy the numerous restaurants, bars, live music and more, all in walking distance.
11
Shikumen Loft- Shanghai, China
This earthy loft is located in a beautiful neighborhood of Shanghai, with a rustic feel and modern amenities. The home sleeps four and is broken up into 2 floors, providing the perfect balance of openness and privacy.
12
Secluded Cabin- Bayview, Australia
This private cabin sits on land overlooking the Pacific Ocean, which can be seen from the spacious outside area, the open concept indoor space, and the large deck. This cabin sits on one acre of land and is only a few minutes from town.
13
Luxury Guest Suite- Toronto, Canada
Only minutes from downtown Toronto, this ultra modern suite is perfect for couples or small groups who are looking to be close to the city while enjoying a luxurious private space. In the summer enjoy the comforts of home relaxing in the hot tub, roasting s'mores over the outdoor fire, or hanging out on the private deck.