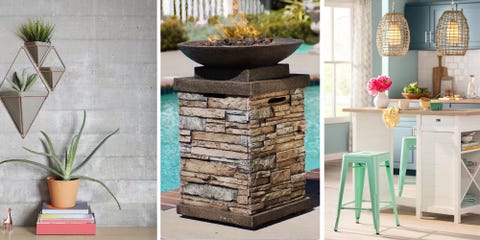 A holiday weekend is upon us, so of course Wayfair is having a sale. And let us tell you, the online home store isn't messing around with their deals in honor of America's birthday. They've slashed furniture, accessories, and more by thousands of dollars. The deals will be going on until July 5th — but don't miss out on the fireworks and barbecue, just add these items to your cart now.
1
Sophie 6 Piece Sectional Set with Cushions
$3,299 $809
Imagine inviting your whole neighborhood crew over for a last minute barbecue and actually having the space to host them all.
2
Keira 3 Piece Comforter Set
$240 $43
A three piece comforter set under $50 is practically unheard of, but thanks to Wayfair, it's a dream come true.
3
Snuggle Home 10" Memory Foam Mattress
$1,200 $180
This is the type of mattress that's perfect for a college kid who desperately needs to stop sleeping on a futon.
4
Barryknoll Standard Settee
$1,300 $241
This is the type of luxe piece you'd only buy if it was on sale, and lucky for us, it is!
5
Westlake Village Kitchen Island Pendant
$945 $282
These three-light pendants are becoming a staple in home design — but that doesn't mean you need to take out a second mortgage to add them to your kitchen.
$233 $76
The neutral hues of these handwoven stool allow them to fit nicely in any room in your house.
7
Charlottesville Upholstered Panel Headboard
$400 $90
With a price like this, you don't even need to attempt the Pinterest DIY.
8
Gilead 1000 Thread Cotton Blend Count Sheet Set
$300 $62
You can buy a set for your room, a set for the guest room, and a set for the kids and it still won't come close to the original price.
9
Burnstad Steel Tete-a-Tete Bench
$417 $195
A seat for you, your husband, and your wine.
10
Mercury Row Kitchen Cart
$369 $134
Finally, your dreams of owning a bar cart can come true! And this one is seriously practical, too!
11
Cheevers Handmade Gray Area Rug
$272 $40
Over 900 reviewers swear by this area rug and that was when it was when it was six times the price.
12
Steiger 18 Piece Wine & Champagne Glass Set
$200 $64
Now you can have a glass set for your summer rosé and your winter merlot.
13
Defreitas 18-Light Sputnik Chandelier
$368 $72
An instant conversation piece for under $100.
14
Adelange 16 Piece Dinnerware Set
$180 $54
Now's the time to finally replace the set you got at your wedding with something a little more modern.