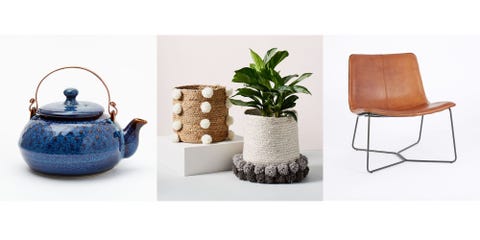 As the seasons shift from slightly brisk to full-on frigid, the temptation of cozying up indoors becomes virtually irresistible. But let's be honest–enjoying the shelter of your home is way more fun when the spaces you spend time in feel inviting–and beautiful. latest sale is the perfect excuse to upgrade your interiors with some seriously unbeatable deals. From sofas and sectionals to storage, kitchen essentials, and more, the iconic retailer has perfect pieces for every cozy homemaker. We have narrowed down some of our favorite finds, from a wide range of pieces that offer up to 60% off.
$489 (Originally $700)

Comfort and elegance unite with this gorgeous velvet settee. The curvy silhouette lends a modern feel, while the worn-in fabric adds a natural coziness.
2
Marble + Copper Footed Cheese Board
$31 (Originally $39)

Serve guests in style with this solid marble cheese board, which stands on copper feet for an added elegance.
$19 (Originally $39)

This ultra-soft acrylic throw will beg you to get cozy, and is available in five luxurious colors.
$31 (Originally $39)

Bring an elevated playfulness into your home with these hand-woven, pom pom-lined jute baskets that can store virtually anything.
$35 (Originally $44)

Set a sophisticated vibe at any cocktail party with these glamorous lacquered trays. Perfect for serving drinks, organizing items atop a table, or enjoying dinner on the sofa, these trays are versatile and elegant.
6
Edge Marble + Terazzo Salt Cellars
$31 (Originally $39)

These handcrafted salt cellars are made from a marble-terrazzo blend, providing elegant and easy access for cooking and serving.
7
Belgian Flax Linen Sheet Set
Starting at $40 (Originally $45)

Crafted from Belgian flax, these gorgeous linen sheets are soft and breathable, keeping you cool in the summer and warm in the winter.
8
Organic-Shaped Low Bowls
$6 (Originally $8)

Perfectly imperfect, these low bowls feature slightly varied shapes for a more unique and natural feel. They are hand glazed and come in three beautiful shades.
9
Slope Leather Lounge Chair
$349 (Originally $500)

The low-slung frame and wide stance of this lounge chair provides optimal comfort and a timeless design.

10
Metallic Base Decanter + Glassware Set
$63 (Originally $79)

This elegant glassware set will have you toasting in no time, and is perfect for special occasions and entertaining. Plus, the simple design provides a beautiful accent to any bar cart.
11
Wire Mesh Storage Bins
Starting at $23 (Originally $29)

These bins are a modern take on French countryside style, and are perfect for storing anything from linens and towels to food items.
$39 (Originally $49)

Made with all natural materials sourced from Northern Vietnam, this stunning glazed clay teapot features an authentic design, a rich color, and a unique mineral composition.
$8 (Originally $10)

The calming pastels of these sunset-inspired mugs will help you unwind at the end of a long day.
Starting at $400 (Originally $550)

The simple silhouette and cozy design of this down-filled ottoman can be used as compact seating or as a leg rest for existing furniture. It comes in a variety of colors and materials, and can fit seamlessly in virtually all homes.
Starting at $27 (Originally $34)

London designer Aaron Probyn crafted this elegant flatware set, boasting an elevated take on minimalist design. Every piece is stainless steel, dishwasher safe, and scratch resistant.