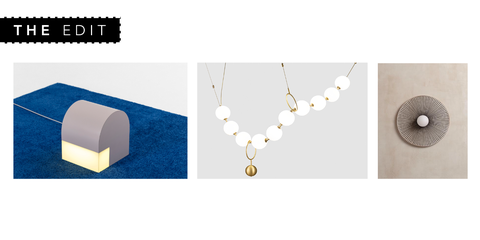 If you're dreaming about your next statement lighting purchase, look no further than the Edit's recap of what's emerging on the lighting design scene now. This month take a quick look at a few brand new lighting pieces that are brightening up our Pinterest boards with exciting colors, textures, and materials that will pack a punch in any space.
1
Reinterpreting Everyday Forms
is an avid observer, and his work is influenced by the seemingly banal architectural forms he walks by in NYC everyday. These forms are reinterpreted as functional objects for the home, in this case a set of desk or floor lamps inspired by galvanized street vents. "I've always loved their simple form." says Stewart. Each lamp is available in two sizes and six colors exclusively through .
Price Upon Request

's Coco chandelier evokes the spirit of 1930s Paris and Coco Chanel's legendary pearls. Each of the 10 globes are hand blown and can be arranged in several different configurations. Available through .

$22,900.00
Mother Nature always wins. In this case, turned to the humble acorn, "The Acorn Sconce references the compound curves of an acorn and its golden ratio, which I find to be the perfect shape." Available in three glass colors and four metal finishes, custom pieces also available.
$1600.00
's sculptural chandelier consists of 24 hand-built ceramic shells. Her spirited work was recently exhibited in the group show at the in Brookyln, NY. Nishikawa notes, "My intention is to create a dreamy environment that people can walk through and surround themselves in. I want mystery and humor."
Price Upon Request
Lanette and Ryan Rizzo, co-founders of enlisted the ceramic expertise of Michele Quan of to create hand painted stoneware backplates for the brand's eponymous sconce. This collaboration proves bright ideas come in three's.
$1,875.00