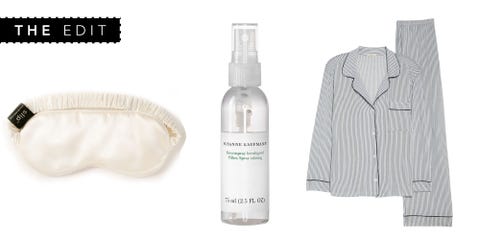 Slip/Susanne Kaufmann/Eberjey
In an ideal world, every day ends with eight hours of restful sleep—free of insomnia, tossing and turning, or external disruptions. And yet, for most, that is more of a *dream* than a reality. While there are the inevitable hindrances to a perfect night's sleep (stress, honking cars, a coffee too close to bedtime), there are great products on the market to help you catch some much-needed z's each night.
In honor of World Sleep Day, we've rounded up the products that help us wind down, hit that REM cycle, and wake up feeling refreshed. Read below for the 10 snooze-worthy sleep products we're swooning over.
1
Slipsilk Pure Silk Sleep Mask
Crafted from the highest grade of long-fiber mulberry silk, this sleep mask will block out any light without feeling too warm or stuffy. Plus, the silk design is great for preventing wrinkles or causing sleep creases.
This calming pillow spray is made with lavender oil—an herb known for its relaxing and soporific properties that can help you fall asleep.
EBERJEY
nordstrom.com
$139.00
There's a reason why so many people rave over Eberjey's pajama sets—they're soft, breathable, and a stylish option you'll actually want to sleep in.
4
Good Housekeeping Blackout Blinds
Even when the sun rises, your room will remain dark as night with these sleek blackout blinds.
5
Phytoactive Hydra-Firm Intense Mask
Royal Fern
neimanmarcus.com
$180.00
If there's a mask worth swooning over, it's one that works its magic while you sleep. The Phytoactive Hydra-Firm Intense Mask neutralizes free radicals to protect your skin from pollutants, with powerful anti-aging ingredients that leave your skin feeling tight and refreshed.
6
Marpac Dohm Classic White Noise Sound Machine
Whether you're battling the sounds of city outside or simply can't sleep in silence, this two-speed white noise machine is customizable and backed by nearly 5,000 positive reviews.
7
Vitruvi Essential Oil Diffuser
Vitruvi
urbanoutfitters.com
$119.00
Sleek and simple, this essential oil diffuser will blend in with your bedroom decor as much as it does with your nighttime sleep ritual. It's made from ceramic and features a BPA-free reservoir, releasing the calming oils of your choice.
8
Organic Mother's Little Helper Tea
DAVIDs TEA
amazon.com
$31.97
A blend of peppermint, lemongrass and valerian root makes this tea a relaxing pre-bed drink that is proven to help you unwind at the end of the day.
9
Luxe Hardcore Sheet Bundle
This cult-favorite bedding is made from 100% long staple cotton that is buttery smooth and totally breathable, so getting into bed is a luxurious and cozy experience.
10
Weighted Blanket & Cover Luxury Set
rocabi
amazon.com
$149.00
While weighted blankets may feel like a fad, there's real science to back up why they help ease sleeplessness. The pressure of the weight can promote the release of serotonin, which is a chemical that regulates sleep.