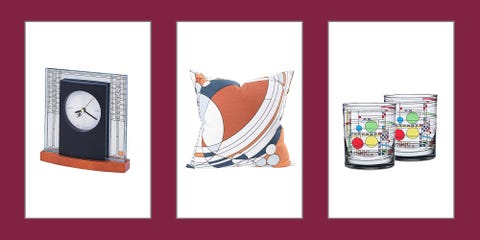 If you've admired the work of revered architect Frank Lloyd Wright, you're going to be thrilled about a new line of lifestyle products the Frank Lloyd Wright Foundation has released. The impressive collection, which is available on , includes everything from elegant glassware to cotton throw pillow covers featuring inspiring designs from the late architect.
"Through our licensing program, we are able to discover new ways to present Wright's classic designs, along with some that many have never seen before, and to introduce his work to new audiences," says Stuart Graff, CEO of the Frank Lloyd Wright Foundation. "And, as we generate revenue from creating high-quality, accessible products, we can reinvest the proceeds in our work preserving Wright's two homes, Taliesin and Taliesin West, for future generations, and in our educational efforts to inspire the world through his ideas, architecture, and design."
Here are a selection of our favorites from the launch.
1
Frank Lloyd Wright Coonley Playhouse DOF Glasses
$28 for 2, Culver

Whether you choose to use these glasses daily or reserve them for special occasions, you're sure to drink in style.
2
Frank Lloyd Wright Printed Table Runner
$35, KAF Home
Take your dinner party to the next level with this striking cotton table runner, featuring an iconic Wright design.
3
Frank Lloyd Wright Robie House Stars and Moonbeams Pencil Pen Holder
$38, Lightwave Laser

This pencil case, boasting laser-cut wood in a walnut finish, is undeniably chic.
4
Frank Lloyd Wright Art Glass Designs Absorbent Coasters
$25 for 4, CoasterStone
Your guests would be more than happy to rest their drink on any of these eye-catching coasters.
5
Frank Lloyd Wright Printed Dinner Napkin
$28 for 4, KAF Home

Cotton napkins, which showcase Wright's Water Lilies print, are all you need for a spring table setting.
6
Frank Lloyd Wright Darwin Martin Pier Cluster Window Throw
$84

Stay warm on chilly nights with this vibrant throw blanket, inspired by a glass design in Wright's Darwin Martin House.

7
Frank Lloyd Wright Martin House Tree of Life Wood Screen
$139, Lightwave Laser

Add interest to a bare wall with this decorative wood screen.
8
Glasner House Frank Lloyd Wright Clock
$42, Bulova
This elegant clock is adapted from an art glass window in the Wright-designed W.A. Glasner House.