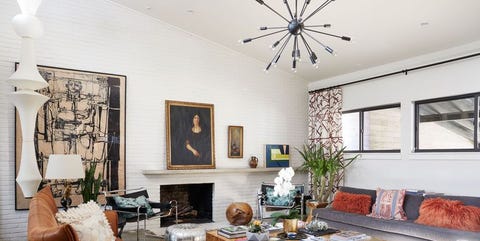 There's a reason why the Scandinavian aesthetic is globally beloved—the 20th-century style blends a comfortable warmth with a clean-lined minimalism—uniting in a way that is functional, unfussy, and timeless. Hailed from Sweden, Norway, and Denmark, the Nordic style is marked by a range of different characteristics, from rustic and industrial to mid-century modern and boho. For these reasons, Scandinavian design can be easily incorporated into virtually any home. With the wonderful versatility of this style, you may be wondering where to begin your shopping. To get you started, we've rounded up 10 of our favorite places to buy Scandinavian furniture online.
A quick search for Scandinavian design will yield thousands of results on —including an entire collection dedicated to this beloved style. Featuring brands like Muuto, Ferm Living, Mater, and more, there's a reason why 2Modern is a one-stop-shop for all things Scandi.

Ferm Living Loop Cushion, $109
In the world of Scandinavian furnishings, reigns supreme. The iconic Swedish mega-retailer offers an irresistible selection of Nordic-inspired furnishings across all budgets and styles.

Ikornnes Floor Mirror, $129
is a go-to destination for interior designers and decor lovers alike, with an all-star range of furnishings from Scandinavia's most beloved brands.

Arne Jacobsen for Fritz Hansen Egg Chair, Starting at $5,906
From furniture to home accessories, design inspo and more—you name it, and has probably got it. Though German-based, Connox features products from some of Scandinavia's top creatives (think Alvar Aalto, Verner Panton and Arne Jacobsen), all of which can seamlessly make their way into your home.

HAY Palissade Bench, $375
Pretty much everything on the website is swoon-worthy, and that doesn't stop at clothing. The always stylish super-brand offers a gorgeous assortment of home goods, with a picture-perfect variety of Scandinavian furniture—from streamlined wooden bed frames to baby pink gumball sconces.

Matte Gumball Sconce, $29
is a Copenhagen-based furniture and decor website filled with all things Scandinavian—including home inspiration that makes achieving this Nordic look an effortless affair.

Dark Blue Storage Frame, $405
While may be best known for their trend-driven clothing and accessories, the Swedish retailer also offers equally exciting decor items, from bedding to storage and everything in between.

Jute Laundry Basket, $35
With vast array of furniture, decor, and home inspiration, we recommend browsing through their wonderful (and endless) collection of Scandinavian designs.

Foxhill Scandinavian Multi-colored Rubberwood TV Stand, $290
While is home to a wonderful assortment of design styles, the website's Scandi-inspired furnishings are arguably their most impressive.


Brookline Solid Wood Dining Chair, $176
—a leading online home furnishings and decor retailer—has everything you need to give your home a healthy dose of Scandinavian elegance. Plus, you can search their offerings by style to help narrow the vast array of goods.

MoDRN Scandinavian Finna Ladder Bookcase, $279