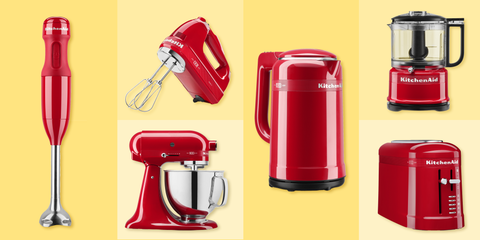 This year marks KitchenAid's 100th year anniversary (that's right, they've been developing our favorite kitchen tools since 1919!), and the brand is celebrating with a limited edition launch of kitchen essentials called . The passion red collection is a slight variation of KitchenAid's classic red tone, and the line features six items, including a two-slice toaster and a stand mixer. All products in the Queen of Hearts line will be available for purchase April 16, but you can pre-order any (or all!) of these items today on .
1
Queen of Hearts 5 Quart Tilt-Head Stand Mixer
KitchenAid
walmart.com
$399.99
$319.99 (20% off)
KitchenAid is a household name at the Good Housekeeping Kitchen and Institute, especially when it comes to best stand mixers. This one is a gorgeous tone that's reminiscent of KitchenAid's classic red.
2
Queen of Hearts Electric Kettle
The dual wall insulation in this electric kettle maintains temperature for longer. Plus, it can withhold a capacity of up to 1.5 liters—perfect for morning tea for the whole family.
3
Queen of Hearts 2-Speed Hand Blender
KitchenAid
walmart.com
$44.99
This immersion hand blender features two speeds, perfect for blending salsa, smoothies, soup, and more, right in the pot you're cooking in.
4
Queen of Hearts 7-Speed Hand Mixer
KitchenAid
walmart.com
$69.99
This particular mixer lets you choose from seven speeds and comes with a lockable swivel cord for easy storage.
5
Queen of Hearts 2-Slice Toaster
The longer, extra-wide slots on this toaster can accommodate a variety of breads, which means that artisanal sourdough can finally get a nice, even brown on it.
6
Queen of Hearts Food Chopper
KitchenAid
walmart.com
$44.99
This food chopper features two speed options and can chop, mix, and puree up to three and a half cups of food.