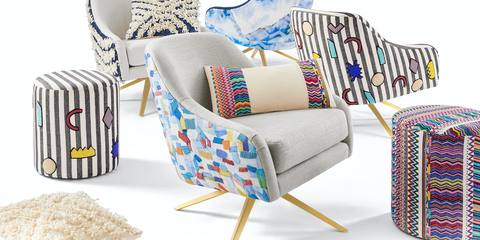 What began as a simple project painting homes in a Guatemalan lakeshore town turned into a tour-de-force collaboration between two design powerhouses. The result: a stunning assortment of chairs and ottomans that celebrates the vibrant native culture. After lending a hand in the Lake Atitlán initiative, West Elm teamed up with Diego Olivero of to design this dreamy collection that local artisans then crafted by hand. It's officially and 100% of the proceeds from each piece will benefit the Lake Atitlán Project. And in case you can't get enough of these gorgeous prints, they've also launched an even larger selection online. Here are a few of our favorites...
1
Roar + Rabbit x Diego Olivero Phoebe Chair
$999
This watercolor-wash mosaic print adds a splash of color to any room without being too loud.
2
Roar + Rabbit x Diego Olivero Ottoman
$399
A small stool with big design impact.
3
Roar + Rabbit x Diego Olivero Mid-Century Show Wood Chair
$899
This Mid-Century wood frame feels so fresh against lapis and bright white.
4
Roar + Rabbit x Diego Olivero Floral Rug
Starts at $149
This floral rug is anything but frilly.
5
Roar + Rabbit x Diego Olivero Retro Wing Chair
$749
Because this print is just too good not to have on more than one piece!