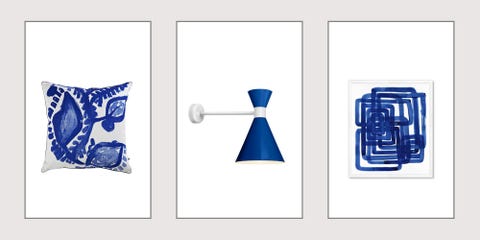 Thanks to Miranda Priestly, gone are the days we were all blithely unaware of the importance in distinguishing between different hues. From Kate Middleton cobalt to Millennial Pink, color actually does represent millions of dollars and countless jobs (insert exasperated eye roll for effect) or, in the case of the French artist Yves Klein, an entire career. From an early age, Klein was obsessed with ultramarine—so much so that he coined his own iteration of it. Dubbed IKB—"International Klein Blue"—the rich color quickly became the most important in his palette. This "Blue Revolution" produced his most popular works, captivating the art world .
Fast-forward to today and it's no surprise that Klein's name is still synonymous with the super-saturated shade. It's also no surprise that the fabulous French paint company (which just launched in the U.S.) is partnering with the Yves Klein Archives to replicate and produce IKB by the gallon in honor of what would have been the artist's 90th birthday this year. And rest assured, it's still the most brilliant blue we've ever seen. You can drop by the to purchase, or call to order. And if you still can't get enough of Klein's signature hue, here are our favorite IKB-inspired home finds.
1
Abstract Floral Blue Throw Pillow
bonnieandneil.com.au
A$155.00
This hand-screen-printed pillow is at the top of our list for summer redecorating.
2
Wolf Ceramics: Cerulean Wine Cup
We're head over heels for terra-cotta and bright blue.
3
Brilliant Blue Demi-Dipped Platter
lusitanostudio.com
$64.00
This painterly platter is exquisite for entertaining.
Refresh your front porch with a cool blue outdoor sconce.
shopsocietysocial.com
$758.00
If painting isn't in the cards, this print adds a great splash of color to white walls.
6
Blu Belle. Pom Pom Blanket
indigoandlavender.com
$135.00
This cotton Moroccan blanket gives us serious wanderlust.
7
Panama Leather Luggage Tag
Smythson
modaoperandi.com
$115.00
And speaking of wanderlust, grab your passport—and this brilliant blue luggage tag.
8
Maia Indigo Ceramic Vase
Toss in some yellow ranunculus for an effortlessly beautiful centerpiece.
This classic coffee-table book is a no-brainer.