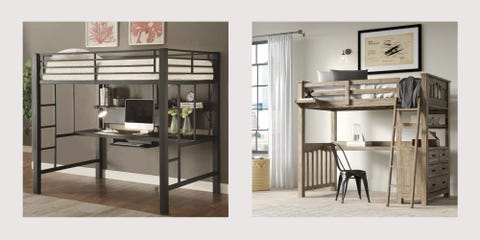 Feeling short on space? Chances are your bed isn't helping. Large, clunky, and of course, non-negotiable, a standard, low-profile bed eats up a large chunk of your square footage. A loft bed, however, is the perfect way to make the most out of limited floor space, creating room for a desk, sitting area, and more. Best of all, there are plenty of sophisticated, full-sized options that won't turn your stylish space into a kiddish nightmare.

Here are 13 loft beds for adults that we're loving right now.
1
Emma Mason Workstation Loft Bed
Emma Mason Signature
$729.30
This handsome, full-sized loft bed is complete with a space-saving built-in workstation.
Compact, simple, and streamlined, you'll have no problem decorating around this classic metal design.
3
Avalon Full Workstation Loft Bed
Coaster Home Furnishings
$699.00
A sturdy workstation and attractive sleeping space come together with this loft design.
4
Editors' Pick
Waverly Loft Bed
Clean lines and brushed brass detailing make this loft bed a sophisticated pick, with plenty of space for storage or furniture below.
5
Dorel Living Denver Loft Bed
Dorel Living
amazon.com
$399.00
A small space will feel instantly larger with a high-profile loft bed in a classic espresso finish.
6
STUVA / FRITIDS Loft bed
The contemporary design of this bright white loft bed provides room for sleeping, studying, storing, and hanging out.
7
Timberville Loft Bed With Desk
Greyleigh
wayfair.com
$1,612.20
This loft bed's driftwood finish creates the perfect foundation to a rustic aesthetic, and comes with a desk and six-drawer dresser.
8
Best Seller
Holly Loft Bed
Complete with a six-drawer dresser, shelving, and a headboard and footboard, this stone gray loft bed is modular and elegant.
This classic, dark-stained loft bed is perfect for all design styles.
Oeuf
wayfair.com
$1,650.00
Inspired by Scandinavian minimalism, this light and streamlined loft bed will complement any space.
Small-space approved and totally stylish, this sleek silver loft bed is the perfect piece for a petite pad.
12
Eivind Metal Full Loft Bed
The industrial feel of this compact loft bed will stand out as much as it blends in.
A lower profile ensures that this loft bed can fit in virtually any space, with a sturdy pinewood design and plenty of room for storage or seating below.