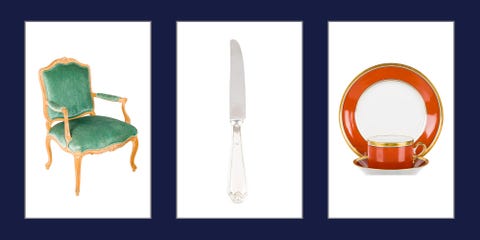 In the world of consignment, reigns supreme. However, it's safe to say that most people associate the secondary market juggernaut with women's fashion only, but you should know they also deal in home products running the gamut from chairs and armoires to fine art prints and objets d'art. (You might even find a solitary Buccellati dinner knife, which will totally clash with the rest of your grandma's silverware, but who cares?) The Real Real's Home section is a wormhole if ever there was one. My average time scanning through the items on offer can exceed an hour, so I'm going to help you cut through the noise and find good deals. Below are my favorite pieces which are currently listed at a 30% discount.
John Widdicomb
therealreal.com
$295.00
This side chair has potential. The shape is there, but it's in dire need of a reupholstery job. I'd suggest a red/blue cotton print from Brunschwig & Fils for this guy.
2
Jet Lacquer Ballpoint Pen
Louis Vuitton
therealreal.com
$171.50
If you can't afford a Louis duffle, now you can at least draw one.
3
Round aRound Large Tray
Artecnica
therealreal.com
$66.50
Close enough to Yves Klein blue that your friends and family will congratulate you on having a sophisticated color palette. This would look amazing serving a dozen deviled eggs.
Buccellati
therealreal.com
$101.50
For the person on the prowl for that one perfect dinner knife. You know you're out there.
5
Wood Transitional Console
The price is right, though it could use some brass hardware. I'd either add some after the fact or paint it in a high-gloss in a very bright color. Statement console tables are a thing, ok?!
6
Crystal Massenet Decanter
Saint-Louis
therealreal.com
$171.50
Saint-Louis is owned by Hermès and deals in gorgeous crystal pieces. I'd fill this guy up with genziana from the Abrruzo mountains in Italy. It's a digestif made from an endangered root, which makes it scarce enough to want to keep it in a decanter for decoration.
7
Louis XV-Style Fauteuil
No house is complete without a fauteil and any Louis followed by a roman numeral will do, though Louis XV-Style is a favorite. Again, I'm not in love with the fabric and with this one, I'd go a little crazy. I'm thinking a designed by India Mahdavi.
8
Pair of Crystal Champagne Flutes
When you live alone or with your lover, it's de rigeur to have things in the tableware cabinet that are just for you to use—like Archie Bunker's chair but less bulky. These champagne flutes are perfect for private celebrations or when you've nicked a bottle of champagne from someone's desk at work.
9
18-Piece Contessa Rust Red Tableware Set
Richard Ginori
therealreal.com
$207.00
18 pieces of Ginori at 240 bucks? It's a steal. And the rust red works really well with the gilt accents. Definitely for a hamburger and drip coffee.
10
Sybil Cut Crystal Bowl
Tiffany & Co.
therealreal.com
$39.00
It's crystal, it's less than $50, and it's Tiffany. Now you don't have to wait to see if you end up inheriting it from your grandmother.
11
Pair of Ricchio Armchairs
Knoll
therealreal.com
$171.50
This is a fantastic deal. They don't even need to be comfortable! And one more time for the cheap seats: REUPHOLSTER! This would look great with a Jim Thompson "" velvet in mango.