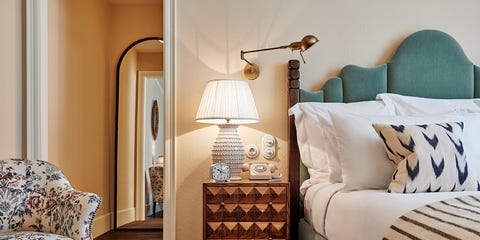 If you've been lucky enough to visit (or be a member of) a location, you're well aware that luxe decor is part of its appeal. Think classic Chesterfield sofas, layered rugs, crystal glassware—the list goes on. After receiving positive feedback from members who were looking to recreate the Soho House look in their own homes, in 2016, the company introduced its furniture line, Soho Home, in the UK. And while the brand followed this U.K. launch with a special home collection for Anthropologie just two years back, there's more good news ahead: Soho Home is now permanently available in the U.S.
"The Houses and collections really go hand in hand in that each one is underpinned with core products that are essential to the Houses—bedding, glassware, and serveware, for example—which are then layered with newness inspired by the Houses," says Siobahn Farley, Creative Director of Soho Home.

Soho Home's offerings include classic, high-quality furniture, textiles, accessories, and dining essentials, which all embody the "home from home" ethos of Soho Houses worldwide. "It's modern, eclectic and timeless," says Farley. "The beauty of this is that the collections don't date, they're not defined by a specific trend or style so it means that anyone can appreciate it and tailor to their own personal taste."
In celebration of Soho Home's U.S. launch, see below for some of our favorite items available now on .

You just might have the best night's sleep with this sturdy iron bed that boasts a sophisticated bronze finish.
A Soho House favorite, this large leather chesterfield has everything you'd ever want in a sofa. It has a comfortable deep buttoned seat, a solid European beech frame, and the most sophisticated chestnut color.
3
Editor's Favorite
Barwell Champagne Coupe
There isn't a tabletop that wouldn't look better with this set of eight champagne coupes.
Crafted in Italy, this elegant dining chair is upholstered in sandstone linen and features curved wooden arms.
5
Corbett 4-Seater Round Dining Table
Dine in style with this dark wood table, complete with a unique faceted base.
6
Ercol Originals Coffee Table
Soho Houses are known for their vintage Ercol furniture, like this classic mid-century modern coffee table.
You can never have too many throws, and this striped design with pompom tassels is exactly what you're missing.
8
5-Arm House Brass Candelabra
Your dinner table is guaranteed to look chicer with this vintage-inspired brass candelabra.
A stylish basket, like this rectangular design crafted from woven banana leaves, is all the motivation you need to get more organized.
10
Country House Teacup and Saucer
Serve a guest their favorite blend with this rustic-inspired teacup and saucer, and we're pretty sure you'll make their day.