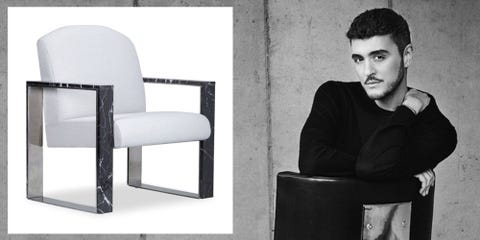 If you've been coveting the homes of the likes of Alexander Wang, James Franco, and Zoe Kravitz, then, you'll be happy to learn that now it will be easier to copy them. The man behind these interiors, , has launched his first furniture line with . Sticking to his signature muted palette, Korban makes the collection interesting by the silhouettes and textures he uses ranging from suede to hammered gold to carved wood. The collection recently launched just in time for the summer, and Korban gives us the low down about his favorite pieces and the inspiration behind them.
"The Basq was a sofa shape that I originally designed for Balenciaga when I was designing their stores. I wanted to create something that had a tight back and felt tailored and graphic. We introduced it for this collection in three different wood finishes."
"It's not surprising that I love a good stone, especially marble. I knew I had to find interesting ways to use stone in this collection and the Alexander Chair became the ultimate example of this. I love how confident this piece feels, but also how it can still sit beautifully in a soft setting."

"I am obsessed with shelving, especially when it's wrapped in suede. I wanted to take a traditional concept and modernize it with this étagère. The metal work feels very faux bois, but we used strong portions and wrapped the back and all the shelves in suede."
"This mirror is one of my absolute favorite pieces in the collection! It was developed because I've spent many years in the beginning of my career working with small spaces and most never had a proper entry. Therefore, I wanted to create something that can make spaces feel larger than they actually are. The shelf attached to the mirror can create the feel of an entry with only a wall!"

"I wanted to create a lounge chair that was low and curvy, but still felt classic and timeless. It was important that the design lent itself to be able to utilize two different types of upholstery so my customers could do do their own final combination. It's a nod to French design in the 1920s."