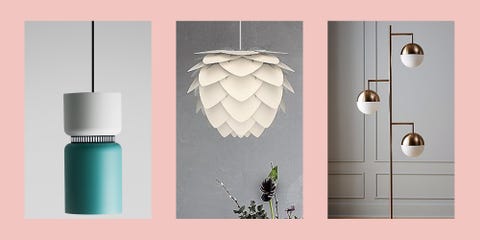 Lighting does not just illuminate your home. It actually creates an ambiance and functions like any other piece of decor. Simply put, the fixture you choose can make or break your space. And if you've ever been inside a lighting store, you know just how overwhelming it can be to shop IRL. From pendants to , modern chandeliers to flush mounts, the styles are as vast as the options in each category. Once you've defined your style, considered your space, and decided on how much and what kind of light you need, the time comes to narrow your search.
Have no fear— seeking out sources for lighting online is an easy way to search by fixture type and style to find the perfect pick for your home. So before you get started, check out 15 online lighting stores we're loving right now.
Lightology offers thousands of high-quality and high-end products that are equally attractive and functional. You can shop by style and fixture type, browse through their inspiration gallery, get expert advice on how to choose a fixture, and even determine which size is best for your space.

Aspen S17 Pendant, $994
Recently, Urban Outfitters has stepped up their home department with incredible collections of furniture and decor in a variety of categories. Their lighting options were once limited to string lights, neon, and novelty lighting, but now it includes trendy pendants, sconces, floor lamps, and more.

Anders Wall Sconce Accessory, $12
YLighting offers an incredible selection of contemporary and modern fixtures from top brands around the world, including Artemide, Kartell, FLOS, and more. Their website also features an "Ideas & Inspiration" center, where you can see how a specific fixture functions in a space. Plus, YLighting categorizes their content by fixture type and room, making it easy to sort through the thousands of options.


Alivia Plug-in Pendant Light, Starting at $317

Gantri's 3D printed lamps start at just $98, with a generous selection of modern options, including accent, area, and task lighting. Gantri serves as the supplier, manufacturer, distributor, and retailer, eliminating the traditional barriers that separate designers from consumers, which also cuts down on waste and allows for lower prices across the brand.


Figure Table Lamp, $168

CB2, a.k.a. Crate & Barrel's trendy sibling, offers a gorgeous variety of light fixtures that look just like some of our favorite name brand pieces for a totally reasonable cost. CB2 also has inspiration boards, where you can see their lighting come to life in real interiors, and inspire your own.

Orbs Champagne Floor Lamp, $400
Everyone knows about their iconic paper lanterns, but IKEA has much more to offer when it comes to lighting. From basic floor lamps to smart lighting and spotlights, IKEA's selection is functional and stylish, at a pretty awesome price.


LAUTERS Table Lamp, $30

If you're looking for cool, one-of-a-kind pieces, Horchow is the place to shop. In addition to their featured brands (think Jonathan Adler and Arteriors), Horchow also sells their own pieces, from floral-inspired table lamps to aged bronze ceiling fans.

Ombre Wood Bead Chandelier, $938
You can't go wrong with Home Depot, with their vast selection, free shipping, and amazing bang for your buck. Whether you're looking for industrial strength track lighting or more stylized scones, they've got it all.

Goliath Black Ark Lamp, $99
As one of the most expansive online lighting sellers, Shades of Light offers virtually every fixture type you could dream of, with an incredible range of price points and styles. You can swipe through their inspiration page and shop by style, making it simple and easy to find the right pick.

Linear Sprawl Chandelier, $633
As the largest and most diverse online source for lighting, Lamps Plus carries a range of brands, from high-end options to budget-friendly picks, not to mention their own exclusive designs. The best part: they ship almost all orders for free, within two days.

Aline High Black Outdoor Wall Light, $80
From Scandinavian to farmhouse, AllModern offers stylish lighting options at great prices from some of the industry's most fabulous designers. Their beautifully curated pieces are sorted in a user-friendly way, making it extremely simple to find pieces that are tailored to your own space.

4-Light Kitchen Island Pendant, $227

12
Space Lighting + Living
As a distributor of luxury European lighting, Space Lighting + Living offers the kind of products you'd expect at an international high-end showroom, all in one place.

Array Table Lamp, $1,800
From contemporary to retro and everything in between, Schoolhouse Lighting has modern and period light fixtures, all handcrafted in their Portland factory.

Ion Lamp, $129
Design Within Reach is a go-to for designers shopping for cutting edge modern pieces, and their lighting options are equally as impressive as the rest of their products. Whether you're shopping for top name brands, or would prefer the look for less, DWR is worth browsing.

Lumio Fabric Book Lamp, $140
If you're looking for stylish, name brand lighting from top designers, Lumens is one of our go-to picks. With eight categories to shop—from creative bulbs to landscape lighting—their wonderfully curated selection is filled with on-trend, high-end pieces.

Tam Tam A Wall Sconce, Starting at $488