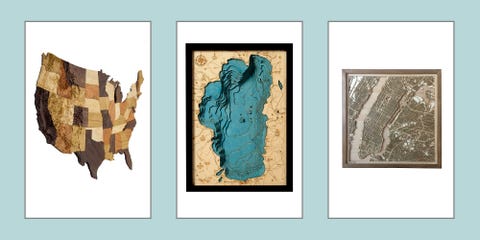 I've always loved a good map—give me a dog-eared road atlas from days of yore and I'll lose myself for hours in its pages, delving into the highways and byways of America and beyond. The thing is, we all know that physical maps are basically obsolete in our current lives. Google Maps and Apple Maps have consigned all of their predecessors to the dustbin—or at least the glove compartment—of history.

Interior designers, however, have deployed maps on wallpapers, murals, and prints for decades. And with so many options available online, now it's easier than ever to hang your own map in any room of your home, whether it's as a memento of a cherished vacation or as inspiration for a future sojourn. So if you're like me and you want to recapture some of that bygone cartographic contentment, you're in luck. I especially like these laser-carved 3D wooden models for their level of detail—many show topography and ocean depths—and chances are you can find one for just about any place on earth you desire. Read on for some of our favorites.

1
Cape Cod, Massachusetts
Woodchart
amazon.com
$298.00
From the shallows of Cape Cod Bay to the depths of Nantucket Sound, this map will have you jonesing for a lobster roll in no time.
Enjoy the Wood
amazon.com
$179.00
Just the United States is shown here, but Ukrainian retailer Enjoy the Wood makes large-scale maps of the entire world that are as fun to piece together and install as they are to pore over.
Woodchart
amazon.com
$158.00
Don't just leave your heart there—a sophisticated map of the Bay Area will complement any style of decor.
The City Wood
etsy.com
$199.00
The City Wood crafts incredibly detailed street-grid maps of almost 100 American cities—from Providence to Provo—and another 100- cities overseas. Perfect for the urbanite in your life.
Beneath the Sail
etsy.com
$388.00
The boot of Italy—recognizable from space—would look even better when seen close-up on a library or living room wall.
6
United States Topographical Map
Elevated Woodworking
etsy.com
$850.00
Aside from the beautiful patchwork of multicolored states, the true prize here lies west of the Rockies, where the level of topographical precision shines through. Each map is one of a kind.
7
Long Island Sound / The Hamptons
Woodchart
amazon.com
$298.00
Still scrambling for a hostess gift when you stay with friends on the East End this summer? Not anymore. (You're welcome.)
nauticalwoodmaps.com
$99.00
Straddling the California–Nevada border, Tahoe is the second-deepest lake in America, which the hollowed-out canyon on this map makes crystal clear.