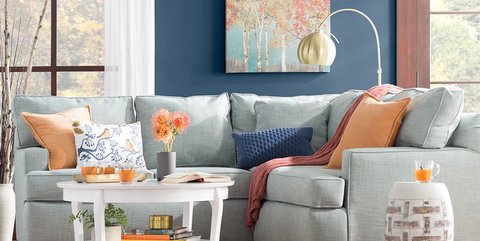 It's that wonderful time of year when the ol' homestead is due for a refresh. If your winter was anything like mine, the doxiepoo puppy you adopted has brought an equal amount of joy as stains on the carpet and chew marks on the legs of your favorite chair. OK, that's a very specific example, but your place could always use a little sprucing up.
Thank goodness for and its insanely enticing sales across its many categories, including a mind-blowing up-to-70% off . Living in New York City, many of us don't have a yard or roof garden, so mixed in with all the great finds listed below, I've included some pieces that you wouldn't normally envision placed on the inside. But that's what design is all about! That, and if your puppy wants to pee on something, it might as well be on a piece built to endure rainstorms, sleet, and tornadoes.
Highland Dunes
wayfair.com
$254.99
Everyone needs a statement lamp. These would look best with bright, patterned lampshades.
Bungalow Rose
wayfair.com
$70.99
Another statement lamp, this time with less splinters. The rounded base looks like an oversize fruit-flavored Life Saver that's met the hot end of a blow torch. The overall effect is gorgeous, but as with the earlier lamps, I'd suggest a new lampshade in a pink or red color.
Hi-Line Gift Ltd.
wayfair.com
$22.43
Everyone wants a dachshund puppy, but they can be infamously yappy. This guy has the looks without the whining and works as a statement objet to place on the floor of your living room. Hilarity will ensue when guests try to pet it before realizing Fido isn't alive.
4
Huntingdon Chesterfield Chair
Three Posts
wayfair.com
$196.99
It's tufted, it has nailheads, and that green is perfection. You'll want to redesign your entire living room around it.
Bay Isle Home
wayfair.com
$37.05
Yellow is my favorite color for curtains and it should be yours, too.
Andover Mills
wayfair.com
$74.74
The silver paint job, à la Warhol's Billy Name–designed "Factory", is what makes the mundane totally memorable.
7
Sanibel Patio Chair with Cushion
Panama Jack Sunroom
wayfair.com
$429.99
Bringing the outdoor inside the house is a tried-and-true approach to design. A pair of these patio chairs would work perfectly flanking the living room coffee table.
Yardistry
wayfair.com
$919.99
Like with the chair above, I see this arbor inside as well. Give it a new, brighter paint job and throw it against the living room wall. A round dinner table, similar to the setup you see here, would make for a sophisticated ensemble.
9
Spiral Boxwood Topiary in Planter
August Grove
wayfair.com
$94.99
Get two of these to flank the entrance to your bathroom. Don't ask questions, just do it!
Langley Street
wayfair.com
$192.83
This coffee table is the perfect color for any living room size and color scheme.
Andover Mills
wayfair.com
$199.99
Can't beat the price. It's worth buying and then reupholstering in something dramatic.
12
Dunlap Rustic 3-Piece Floating Shelf Set
Union Rustic
wayfair.com
$56.99
I'd fill an entire corner, both sides, from floor to ceiling with these shelves. Buy nine and see how many of those books you have stacked on the floor can fit on them.