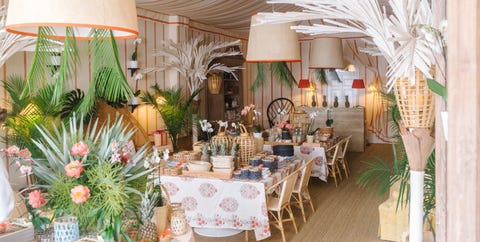 Here at Siweb, we like to say that wicker is forever, and one designer who shares this love with us is Bahamas-based . Known for her island-chic aesthetic, Lindroth decided to expand her entertaining line and women's accessories by opening a store at 445 King Street in Charleston, South Carolina. The tented space is a wellspring of color and inspiration, and she hopes it will also double as an event space. "Charleston is a coveted designation not only for its historic architecture and beachfront," she says, "but also for its legendary parties!" If you're more of a wallflower, though, here are five must-have items from Lindroth's store.

1
Natural Island Wrapped Glassware
amandalindroth.com
$16.00
"This universal glass is perfect for everything from rum dums (my favorite) to white wine."
amandalindroth.com
$188.00
"Come summer, this is the only tote I'll carry, and I love switching up the colors based on my summer attire."
linens
amandalindroth.com
$48.00
"These patterned dinner napkins are to celebrate the new Charleston store."
amandalindroth.com
$60.00
"Our island trays are so versatile for outdoor bars, serving trays, or for cocktail table decor. I love the balance of the willow with leather and it comes in various sizes and as a rectangle or round."
5
Domed Island Wrapped Hurricane
amandalindroth.com
$70.00
"Our new domed hurricane will be a summer must-have for windy outdoor dinners."