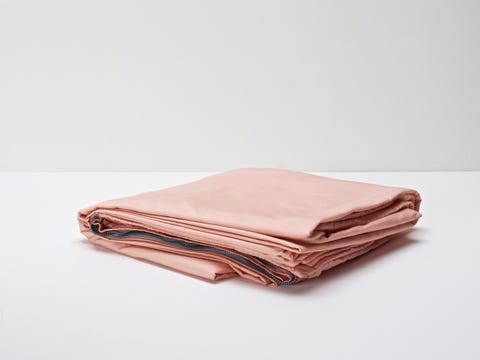 Best Look: Flaneur
Flaneur's ability to match your bedding to any color you want is, well, unmatched. All of their luxury products also undergo DNA testing to ensure only 100% extra long staple Supima cotton gets woven into the sheets, guaranteeing uniform color saturation — without annoying pilling.
Duvet cover in "pink champagne," $360 - $400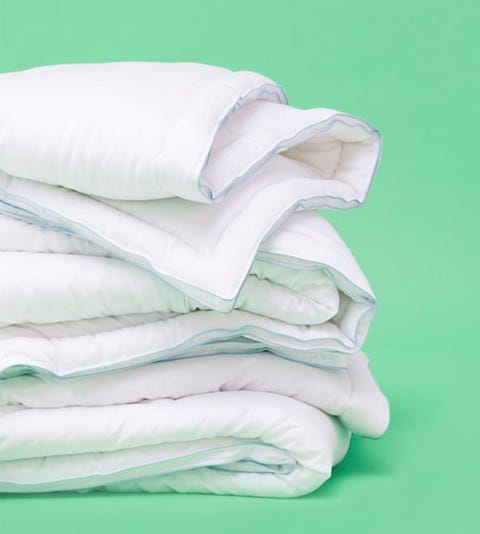 Best Tech: Buffy
A highly engineered comforter, this option keeps you cool, environmentally conscious, and cruelty-free. It's a scientific feat at a mid-line price; the interior stuffing is made up of recycled water bottles, and the fabric is composed of eucalyptus fibers coated in volcanic minerals for a light and breathable feel.
The Buffy Comforter, $120 - $150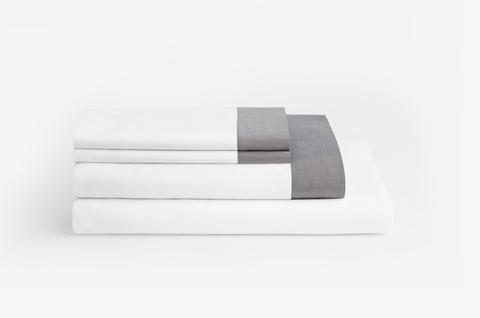 Best User-Friendly Design: Casper
The company that took the pain out of buying mattresses also streamlined the rest of your bedding situation. Reviewers love the grippy elastic, snaps, flaps, and tags to help you put the temperature-regulating bedding on correctly the first time (and have it actually stay in place).
The Casper Sheets standard set, $100 - $170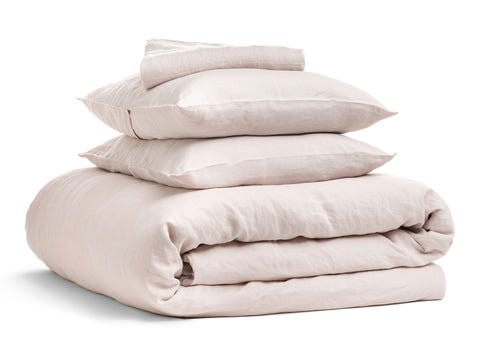 Best Feel: Parachute
This was one of the first companies to mimic the look and feel of luxury hotel bedding at a more accessible price point. Attractive sheets available in percale and sateen made up of 100% long-staple Egyptian cotton and linen made from pure European flax without the use of chemicals or synthetics.
Linen Venice Set, $399 - $439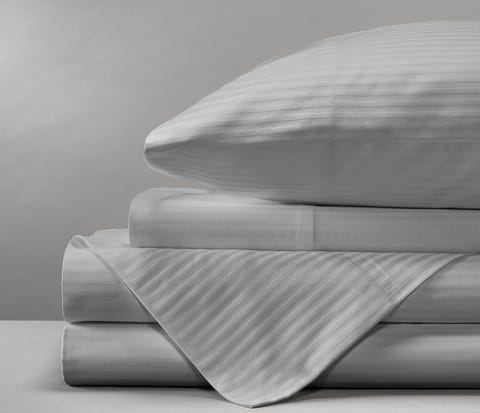 Best Responsibly-Made Products: Boll & Branch
The first bedding brand to earn Fair Trade USA certification, this company proves responsibly-made organic sheets doesn't have to mean scratchy and stiff. The brand sells a wide range of goods with a high-quality luxury look and feel — but no guilt or luxury price tag.
Sateen Stripe Set, $210 - $305
Siweb participates in various affiliate marketing programs, which means we may get paid commissions on editorially chosen products purchased through our links to retailer sites.

---
How'd you sleep last night? We'd guess not well, given that the one in three adults don't get enough shut-eye.
We can't give you more hours in the night to get your zzZzzZ's. We can, however, point you to innovative bedding that can help decrease your tossing and turning by amping up the comfort, sustainability, and beauty of your bed.
These start-ups are crafting top sheets and comforters that can do a lot more than just keep us warm.
First, A Brief History...
Before start-ups hit the sleep scene, most people went to a big box store to pick up their beddings and mattresses. Thankfully, strapping a mattress to the Honda and test-poking a plastic-wrapped comforter is now an antiquated shopping approach.
One of the first big players to reshape the game was , a mattress company started online in 2014 that offered easily shipped and returnable mattresses (and later, bedding to go with them).
The last five years have made way for bedding companies specializing in every niche and need — offering highly curated aesthetics, more sustainable construction, and five-star hotel level luxury at a fraction of the price. These brands also offer increased convenience (free trials, returns, and delivery) and diversity in sizes and solutions (i.e. bedding to keep you cold).
How They Save You $$$.
A specialized product from a smaller company doesn't have to always mean a bigger price tag. Going direct-to-consumer allows start-ups and private companies to cut out the middle man to keeps cost down, and selling online-only eliminates the costs and headaches of retail spaces. Although some of the luxury products in this category will still totally eat your wallet; luxury is still luxury at the end of the day.
Plus, smaller companies often offer more transparency in their supply chain, with a heavier focus on sustainability. So you can go to bed at night knowing your top sheet isn't a total nightmare to the environment.
Learn More About Our Top Five Picks:
1.
Pros: Design and construction process gives you a highly curated look in a soft, luxury finish that won't break down in the wash.
Cons: The hefty price will dissuade more casual shoppers.
Bottom Line: Soft, luxury bedding that comes in all the shades of the rainbow — and then a billion more — delivered in two weeks.
Founded in 2015 by two Columbia University grad school students, every step of the design process at Flaneur is incredibly thought out.
A team of tailor sews every piece of bedding, which is woven using 1-ply, 1-pick premium sateen, 400-thread count technique, the highest possible thread count possible in a single square inch. So, it's soft but won't pile.
You can choose from one of Flaneur's extensive shades or list a specific Pantone hue, and the dyed-to-order textiles are delivered 10 days later.
---
2.
Pros: Instead of trapping air like other comforters, the fabrics' microscopic volcanic minerals "breathe out" extra heat and moisture for a cool and dry feel.
Cons: It's not as aesthetically pleasing as some hotel-style white comforters, and it loses some of its functionality if you add a duvet over it.
Bottom Line: An innovative, environmentally-friendly option at a great price with a 30-day trial period — perfect for avoiding sweaty, sticky nights.
Launched in 2017, Buffy comforters still give you the bright white and soft feeling of a traditional comforter, but the alternative down option is much friendlier to the planet (and the geese).
Instead of cotton, Buffy uses eucalyptus fibers, which are naturally soft and soothing — and require 10-20x less water than cotton to grow.
The volcanic minerals are infused with the fabric microfibers (which are ) at a microscopic level, and won't wear off with wash. Think of it like the spa equivalent of a comforter.
---
3.
Pros: A wide range of luxury products in multiple fabrics and finishes without the luxury price tags.
Cons: Still slightly more expensive than some of willing to pay, but nothing compared to its competitors.
Bottom Line: Simply great sheets, duvets, throws, comforters — you name it — made in a family-owned factory meeting high environmental standards.
CEO Ariel Kaye founded her company in Venice Beach in 2014 after she slept in the softest sheets ever at a hotel in Italy and wanted to recreate the experience — without a steep cost or the pain of big box stores. The direct-to-consumer company works with craftsmen and suppliers in Portugal, Turkey, Italy, and the United States for a mid-priced, high-quality product.
The bedding is , so Parachute doesn't use harmful chemicals or synthetics, or artificially soften its fabrics. The company also partners with United Nations Foundation's Nothing But Nets campaign to send one malaria-prevention bed nets to those in need for every Venice Bedding Set sold.
---
4.
Pros: Moisture-wicking bedding, from duvet covers and inserts to fitted sheets, that reviewers praised for its usability features and "no fuss, no muss" design.
Cons: Limited color palette and design that can appear too modern in some bedroom designs.
Bottom Line: Soft, temperature-regulating bedding designed to tuck your pillows and comforters in place with easy upkeep.
Casper forayed into the pillow and sheets scene in 2016 to pretty great reviews. The pillow has an interesting "dual pillow" construction, where a soft pillow surrounds a firmer inner pillow for supportive system that's still fluffy.
The sheets, duvet covers, and duvet lining are made up of a lightweight percale weave that helps regulate temperatures to the point that reviewers called them magic, and all of the products have thoughtful features to increase usability. Grippy elastic and securing ties help the fitted sheet to stay put, and blue labels act as visual cues to help you make the bed correctly (it's OK to admit we need help sometimes).
Casper's 100-day trial period and free shipping and returns extends to linens and pillows, so you can love it, hate it, use it, and wash it for awhile before making a final decision.
---
5.
Pros: Ethically made, sustainably sourced and tastefully designed luxury goods at a fair price with a 30-day trial period.
Cons: Not as inexpensive as some other sustainable brands (but those companies can't touch Boll & Branch's fair trade standards).
Bottom Line: Luxury home textiles with prices and production standards that could put other companies to shame.
Started in 2014 in New Jersey, husband-and-wife team Scott & Missy Tannen founded their ecommerce start-up after questioning the quality and production of existing bedding companies.
They now work directly with cotton farmers to control their entire supply chain, starting with organic cotton seeds and working with farmers who earn earn 200-300% more due to the Fair Trade price standards.
They sold just over $1.5M in sheets in the first year, and according to the founders, three presidents sleep with these sheets (both President Bush's and President Clinton).
The snuggle-worthy bedding is made of 300-thread count long-staple cotton, and the company also makes towels, blankets, and quilts — letting you spread the positive impact throughout your whole home.