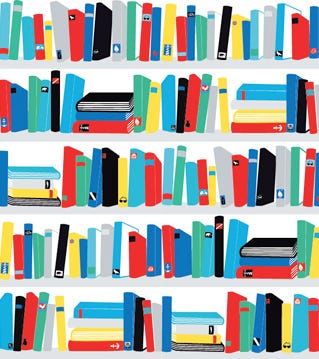 Photo: Tom Slaughter's Library wallpaper by Cavern.
Fill your walls with art, or just paste it right on. The latest wallpapers by Cavern merge art and decor. Cavern's director of design and operations Stephen Haskell chose five contemporary artists, including Pop Art printmaker Tom Slaughter and neurologist-cum-artist David Stark, to create punchy new patterns for the home. Says Haskell, "I wanted to work with people who had never made wallpaper before and see what could happen with fresh perspectives." And fresh they are—the digitally printed papers have amazing dimension and character. Paste any of them on your walls and you've got an instant art installation.
Artist Editions wallpapers, $8 per square foot; .