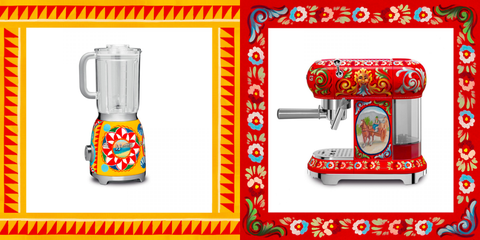 Fashion — it's what's for dinner. Or, according to Dolce & Gabbana, it's what's making dinner.
The Italian fashion house teamed up with Italian appliance maker SMEG for a line of kitchen tools and fridges bearing the works of Sicilian artists as part of its "Sicily Is My Love" collection. The delicious collection includes toasters, citrus juicers, coffee machines, kettles, blenders, stand mixers, and slow juicers. A few of the goods are now available for pre-order at Neiman Marcus.
This isn't Dolce & Gabbana's first sashay into the kitchen space.
Dolce & Gabbana previously exhibited one hundred SMEG fridges painted with homages to classic Sicilian at Milan Design Week in 2016, which Neiman Marcus also sells for a cool $50,000 each. Mamma Mia.
After a last September, the brand also released a with Pasta Di Martino that sold pasta in D&G-designed packaging for around $110.
Most of us would have to starve to afford the prices for the appliance collection, but at least the reknown SMEG products are as high-quality as they are gorgeous?
Pre-order — or gawk at — the pieces below.
The fashion crowd does love to share tea. Plus, this beauty is dishwasher safe!
$600
When life hands your lemons, grab your high-fashion citrus juicer and make some incredibly chic lemonade.
$600
A toaster so pretty, you might be tempted to carry it as a handbag. Just think, you could recoup your losses by selling D&G; avocado toast!
$600
The decoration of this refrigerator is inspired by traditional Sicilian songs and dances, particularly the Tarantella and the Taratatà. It's pricey, but think of it as a five-star hotel for your deli meats.
$50,000