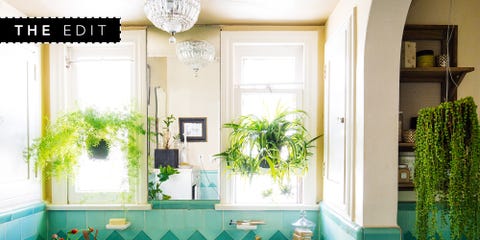 Once you get to know them, plants have a lot of personality. Which ones do you identify with? Are you stately and standoffish like a cactus? Maybe you are tough and independent like the ZZ plant? Are you as easy to please as a pothos? Maybe you are fresh and productive like mint? Or bold and flexible like a monstera?
Think about plants you love, that you have kept in your home, or that often appear in favorite textiles or artwork. Are you in love with the poppies of O'Keeffe, or the philodendron leaves of Matisse, or the bamboo of Wen Tong? How do you feel about the iconic banana-leaf wallpaper at the Beverly Hills Hotel, or the tulip motifs found at Istanbul's Topkapi palace?
My spirit plant, for example, is the coconut palm. I feel a kinship toward this palm because of how versatile the coconut fruits are — they provide nutritious food, drink, oil, medicine, and a vessel to boot. I like to think of myself as being very versatile too, and I aspire to the heights of the coconut palm. It also has big hair, just like I do.
Reprinted with permission from by Justina Blakeney. Published in 2017 by Abrams, an imprint of ABRAMS.
If you're instrospective and enjoy solo trips to the desert, but don't have enough direct sunlight to keep a cactus happy, try a Euphorbia. Tall and stately, it enjoys being alone in a corner with bright (but indirect) sunlight. Try putting it in a pot in shades of pink, yellow or tan to bring home a desert vibe.
16-inch Jardiniere Pot, $300; Bauer Pottery

If you're a beachy 'barefoot and carefree' type whose daily wardrobe consists of faded jeans and a plain t-shirt (with vintage jewelry to boho it up) – the Hoya and Lipstick plants are perfect for you. Low maintenance and happiest when hanging out, they will live their best life in a vintage shell macrame planter.

Vintage Hanging Shell Planter, $150; Chairish
Do you love visits to lush jungle-y arboretums just as much as you enjoy picnics in a grassy meadow? Pair a Philodendron Xanadu with a textured basket to bring home the best of both environments.
Natural & Grey Baskets, $162 for a set of 2; Jungalow

If you live in a shady mountain cabin, the sansevieria is for you. It tolerates low-light and doesn't need much attention. With it's leaves being on the darker side, liven things up with a colorful planter.

Green Wavy Pot, $90; Tactile Matter

The spider plant, which was made popular around the time I came into the world — is one of my favorite 70's/80's throwback plants that recently has made a serious come back. So if you're a bohemian with vintage flair and love a lush life, bring home one of those green babies.
Jungalow Planter, from $75; M.F.E.O.

If you're light loving and low-maintence, succulents bring life to small spaces on your desk and sunny shelves – add extra color and a bit of soul with a hand thrown planter.

Indigo Splatter Planter, $72; Chris Earl