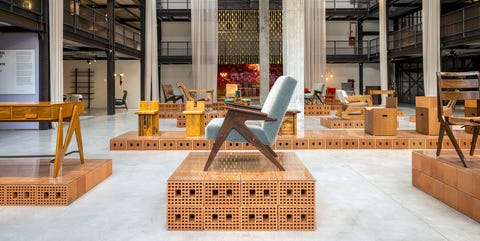 Every April, hoards of designers, industry folks, and curious jet-setters descend upon Milan, looking for inspiration at and Milan Design Week. The sky is the limit, as interior and fashion brands alike seek to outdo each other in the creation of awe-inspiring displays and installations for their new and reissued products. The mania begins on Monday, April 8, and continues throughout the week. Here are the happenings you don't want to miss!
tapped American designer Sasha Bikoff to design Versace's Milanese boutiques and the Home Collection boutique. She reimagined their iconic furniture pieces, updating them with fashion fabrics and unusual materials for the courtyard, and she transformed their second floor into an apartment-style space to show off their brand new furniture collection. To top it all off, artist will be exhibiting his Versace-inspired work at the space as well. Via Gesu 12.
will be showcasing pieces from a new collaboration with , a collection of ceramics by and (shown), and the latest new introductions by designers and . Corso Garibaldi 117.
is the man around town. The Italian native is showing with eight different companies, two of which are shown here. The chair is part of his new collection with , and the brass cabinet is with .
Nina Yashar opened a warehouse a few years ago as an extension to her on Via della Spiga, and it was a huge hit. Now, all design fans look forward to seeing what she has curated at the depot every year. Viale Vincenzo Lanzetti, 34.
is launching a second furniture collection with , showing at their Via Solari 35 location. It is sure to be as beautiful as the last!
is going to be launching new products for their collection at the Palazzo Bocconi. It is always spectacular. This year, they will be showing collaborations with new designers like and adding to their already stellar cast. This image from last year's exhibit gives you a preview of what it is like.
Prints queen, J.J. Martin, is going to be launching bedding and vases for the first time, adding to her fashion and tabletop lines for . Piazza Arcole 4.
Beirut-based designer, , will be launching her Marquetry Mania collection at at the Piazza S. Marco. She will also be doing the window display for at their Via Montenapoleone location.